A marzo 2017 gli utenti Mobile-Only superano per la prima volta gli utenti Desktop-Only. News e Lifestyles le categorie con le più alte quote di audience mobile
Le maggiori crescite in punti percentuali dell'Audience esclusivamente mobile si registrano nelle categorie News e Retail
Milano, 17 maggio 2017 – A marzo 2017, per la prima volta nella Total Digital Population italiana (37,3 milioni di visitatori unici Desktop e Mobile), si registra il sorpasso degli utenti che accedono a Internet esclusivamente tramite device mobili (9,3 milioni, pari al 25% del totale) sugli utenti che accedono solo da desktop (9,1 milioni, pari al 24%).
Gli utenti multi-piattaforma rappresentano la metà della popolazione digitale italiana (51%), in crescita di 4 punti percentuali rispetto al 47% registrato a settembre 2016.
Il confronto tra il dato di marzo 2017 e quello di settembre 2016 evidenzia che l'aumento dell'audience mobile-only riguarda tutte le principali categorie di contenuto. Le maggiori crescite in punti percentuali si registrano nelle categorie News (passata dal 28% al 40%), Retail (dal 22% al 33%) e Sports (dal 41% al 51%).
Le singole categorie mostrano peculiarità che ne determinano le modalità di accesso ai contenuti. Da un lato categorie come News e Lifestyles raggiungono ormai l'80% della propria audience complessiva su dispositivi mobili (utenti esclusivi mobile e utenti multipiattaforma). Dall'altro lato, nelle categorie come Retail e Business, in cui è forte l'elemento transattivo, gli utenti mobile sono pari al 65% dell'audience totale, evidenziando come la componente Desktop-Only ricopra ancora un ruolo importante.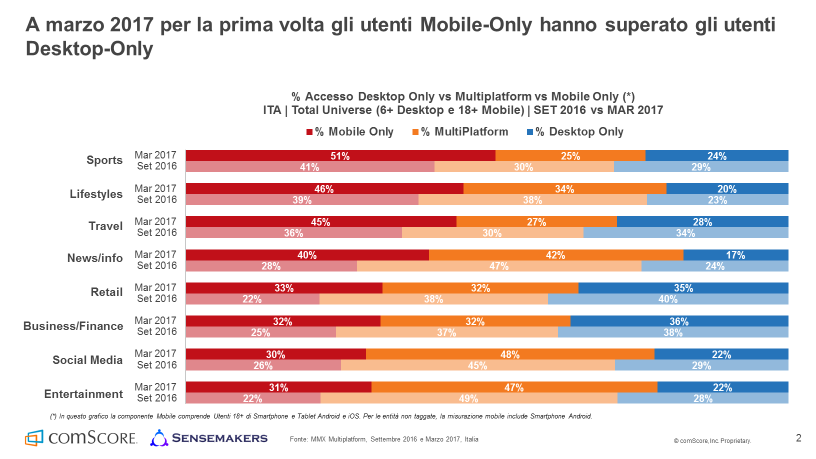 Filippo Giorgio
Comscore, Inc.
+44 207 099 1760
worldpress@comscore.com
Follow @ComscoreEMEA
Comscore Media Metrix® Multi-Platform provides an unduplicated view of total audience behavior across desktops, smartphones and tablets.
Learn More