- April 3, 2020
América Latina: El Impacto Mediático del Coronavirus en Redes Sociales
Con millones de personas trabajando desde casa y gran porcentaje de las escuelas latinoamericanas cerradas en medio de la pandemia COVID-19, no es de sorprender que se registre un aumento en la cantidad de publicaciones e interacciones en las redes sociales.
De acuerdo con los datos de Shareablee para América Latina; Argentina, Brasil, Chile y Paraguay son los países de la región que mayor porcentaje de cambio en el número de publicaciones e interacciones multiplataforma de social media registraron durante marzo 2020 en comparación al año anterior.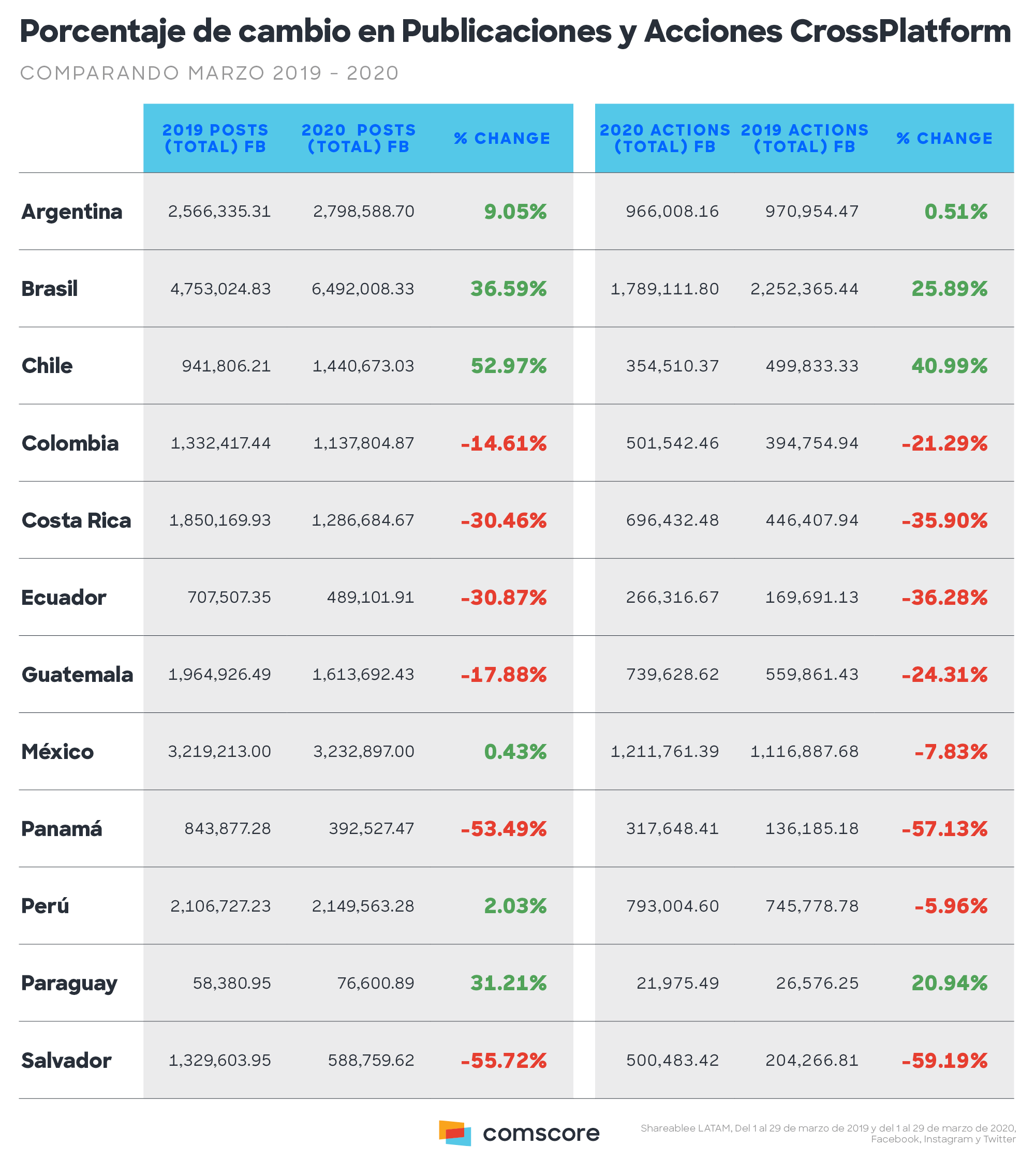 ¿Cuáles son las categorías con mayor engagement durante la pandemia?
El escenario con la pandemia del COVID-19 en nuestro entorno ha sido crítico para algunos sectores y muy incierto para la mayoría. Sin emabrgo, marcas y anunciantes han logrado altos números de engagement a partir de la pandemia.
Los números extraídos de la plataforma Shareablee, nos indican que los mayores niveles de engagement se obtuvieron en la red social Instagram en las categorías de "Finance" y "Health", ambas superando un 100% de aumento en las interacciones entre marzo 2019 y marzo 2020.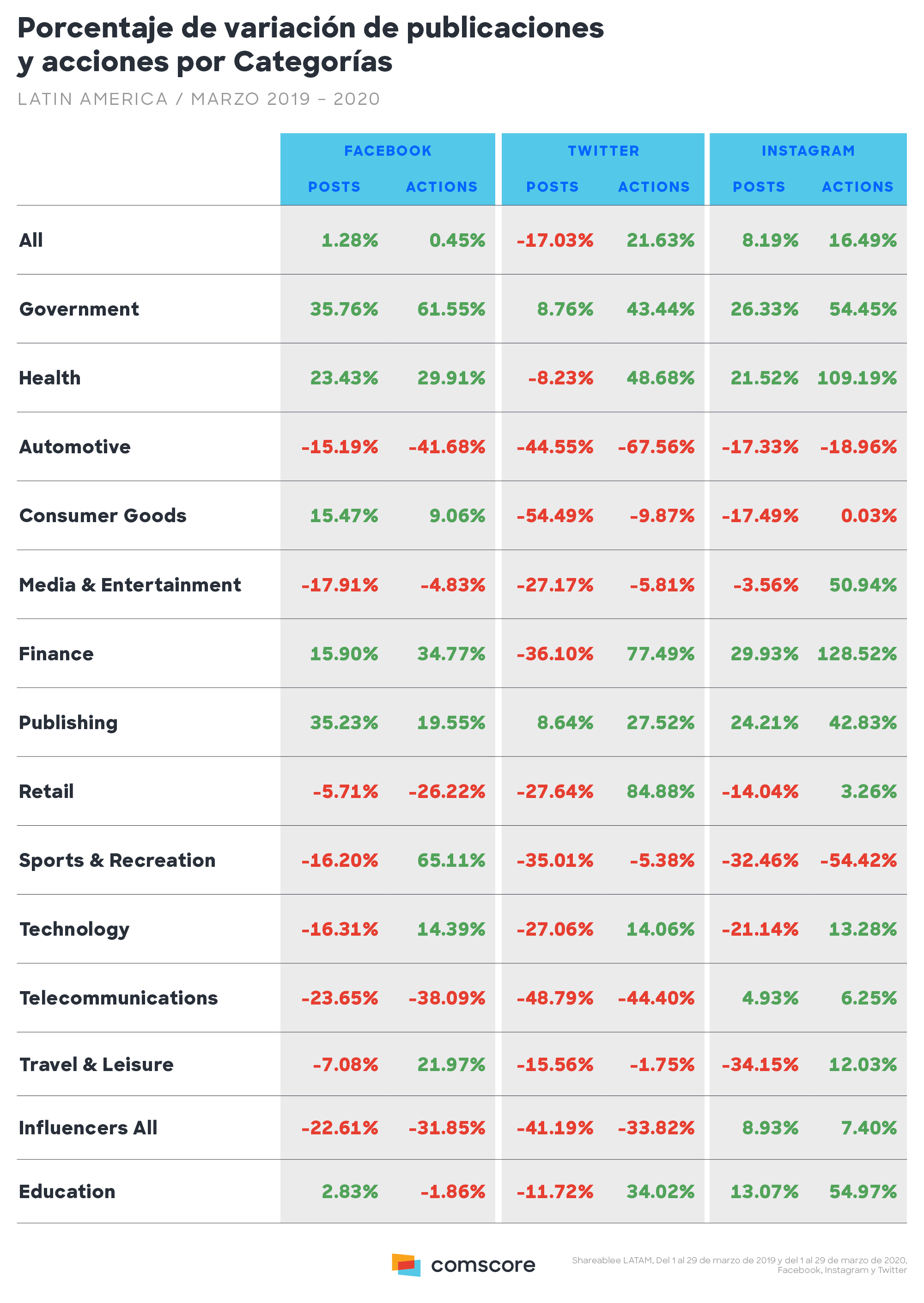 ¿Qué tipos de contenido funcionan mejor para cada red social durante la pandemia?
En Facebook los links a notas detalladas, entrevistas y conferencias son los que predominan, mientras que en Instagram lo hacen las fotos y videos de "Noticias de Última hora" respecto a Personalidades que fueron diagnosticados con el virus. Por otro lado, Twitter se convierte en la red social de noticias de "último momento" con estadísticas y gráficos de contagio locales, recomendaciones y "tips" de prevención predominan día con día.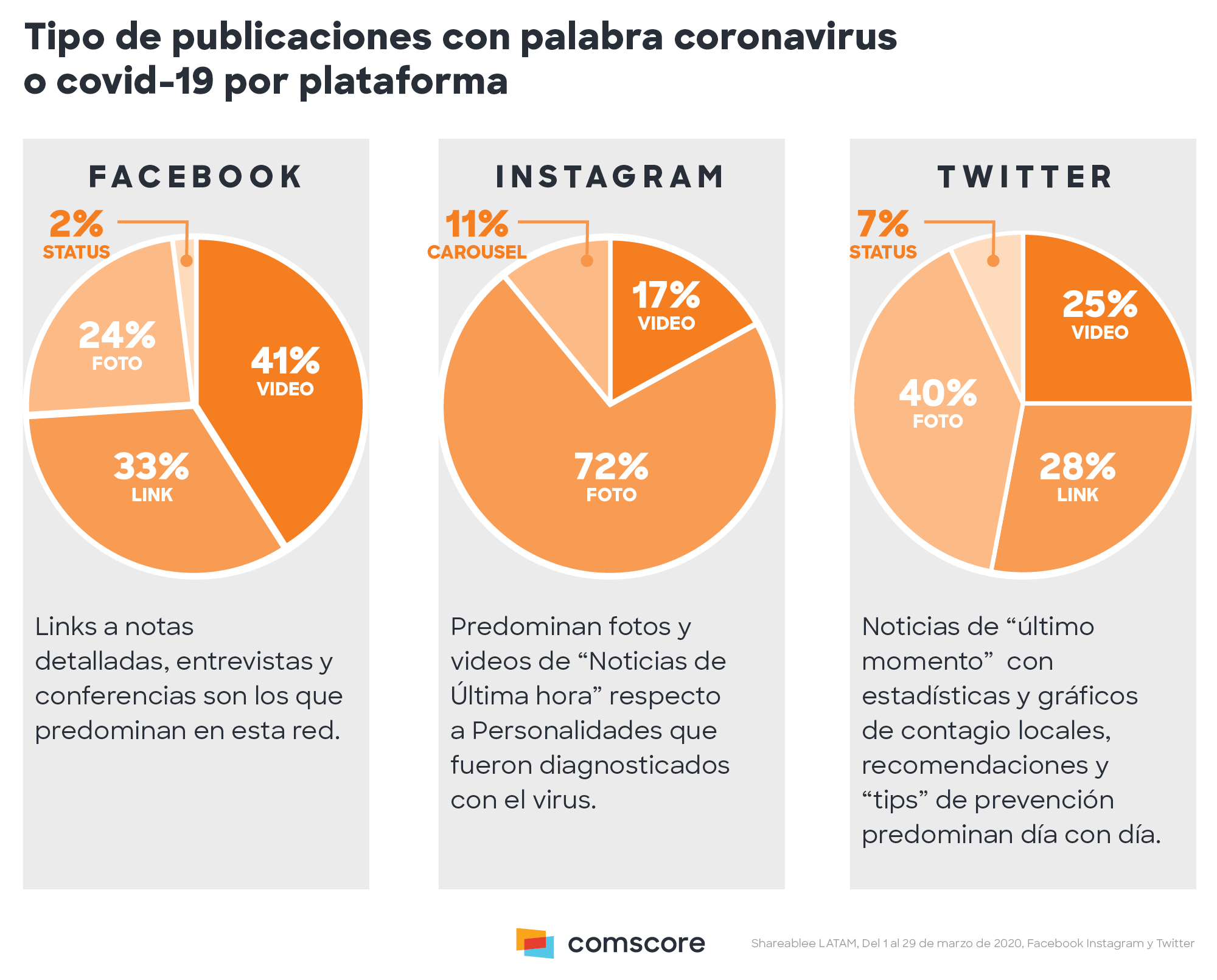 El coronavirus, la cuarentena y el distanciamiento social logran que los consumidores están haciendo constantes cambios significativos en la forma en que interactúan con el contenido en todas las plataformas. Por lo tanto, en Comscore proporcionaremos actualizaciones continuas sobre las tendencias cambiantes de los consumidores y el impacto resultante en las industrias. Para ser notificado cuando entreguemos nuevos insihgts o datos, haga clic aquí.
Coronavirus Insights
Read our ongoing updates on shifting consumption trends and the resulting impact on the advertising and media industries on comscore.com/Coronavirus.
Sign up to be notified when new insights or data become available.
Sign Up