- June 2, 2017
Apparel Spending Shifting to Online Channels Faster than Total Retail Dollars
Online apparel sales have seen a boom in recent years as consumers have gradually become more comfortable making wardrobe purchases from their computers and mobile devices. In its early days, e-commerce consumers quickly took to product categories like books and media entertainment, while Apparel & Accessories understandably had a slower adoption curve. It makes sense intuitively – there's inherently more risk that goes with purchasing an article of clothing online than with an item where you know exactly what you're going to get, such as a book or DVD. The apparel item might not fit or it might look different in person than in the photo. Consumers remained apprehensive about online apparel purchases for a long time, but are finally gaining comfort with it as online retailers lowered the risk through easy return policies and aggressive use of free shipping offers. As a result, the Apparel & Accessories category has grown at a faster year-over-year growth rate than total online retail for 11 of the past 13 quarters.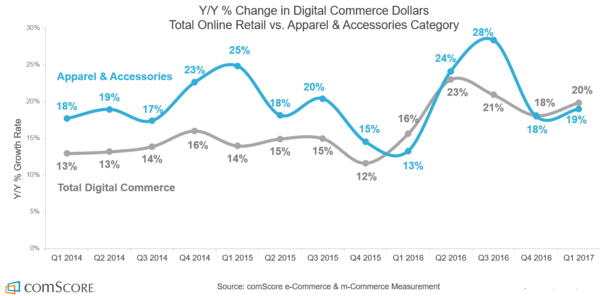 The net effect of this is that Apparel's share of total digital spend has grown each of the last three years, from 15.4% in 2013 to an all-time high of 17.0% in 2016. As Apparel dollars continue to shift from brick-and-mortar stores to online channels, industry observers wonder whether we've reached an inflection point in retail. With a lower percentage of spending now occurring in-store, retailers may have to reevaluate whether the high fixed costs of physical retail stores are worth it.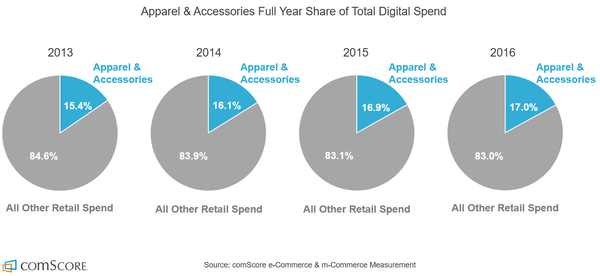 Even Walmart, the largest brick-and-mortar retailer in the U.S, appears to be shifting more of its focus to digital, recognizing the channel as an increasingly important contributor to future growth. Over the past year, Walmart has been on an acquisition binge, largely focused on digital retailers and assets such as Jet.com, Shoebuy.com, Hayneedle, ModCloth and Shoes.com.
Meanwhile, Amazon continues to search for ways to get an edge as it encroaches on brick-and-mortar. Recent years have seen Amazon focus more on the Apparel & Accessories category, and the company recently introduced a new product – the Echo Look – that seems designed to expand its foothold. The Echo Look, which uses a camera to take full-length photos, is being described by Amazon as a personal "style assistant" to help customers determine if an article of clothing fits well and looks good. Amazon is also reported to have developed a technology for taking apparel measurements by camera, an application that could potentially be integrated into the Echo Look – and which would have the added benefit of reducing the need for apparel returns. By minimizing that hassle for customers, this type of innovation could ease much of the existing friction in buying clothes online and accelerate Apparel's channel shift from brick-and-mortar to online.
Now before retailers start to panic, it's worth mentioning that in 2017, after a couple decades of e-commerce, brick-and-mortar retail sales still outnumber online sales at a ratio of more than 4-to-1, per the Department of Commerce and Comscore data. To adapt to the changing landscape, traditional brick-and-mortar retailers should leverage their strengths, including their valuable brands, to develop an omnichannel strategy focused on their customers' wants and needs, whether in-store or online.
For more insights on the latest online retail trends, you can download our presentation on the State of the U.S. Online Retail Economy in Q1 2017.