- August 21, 2018
It's Official: Retail Spending Is Shifting Earlier in the Holiday Season
Over the past few years, the online Thanksgiving retail holidays (Black Friday through Cyber Tuesday) have accounted for an increasing share of desktop e-Commerce holiday spending. Marketable periods such as Black Friday and Cyber Monday have become synonymous with deals, and consumers have responded by shifting spending to earlier in the holiday season.
This trend poses an interesting and potentially serious threat to brands that don't get in front of consumers early, but this could also be perceived as an opportunity for brands willing to get ahead of the shopping rush.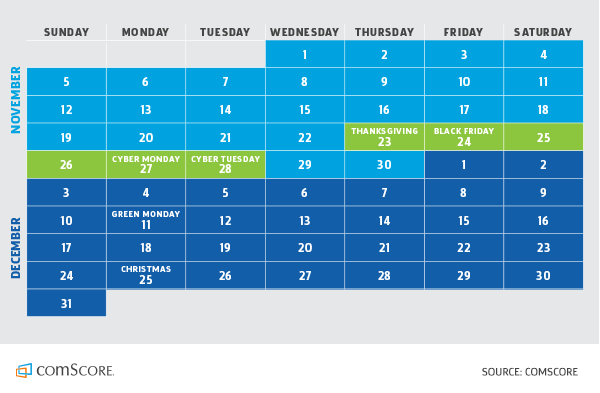 Opportunity or Risk for Brands During the Thanksgiving Retail Holidays
The online Thanksgiving retail shopping holidays accounted for 17.7 percent of total desktop e-Commerce holiday spending in 2017 – a steady increase from 16.2 percent in 2015. Considering that 2017 had a protracted holiday shopping season, with three more total shopping days than in 2015, this spending increase shows consumers have clearly shifted their holiday spending to earlier in the season.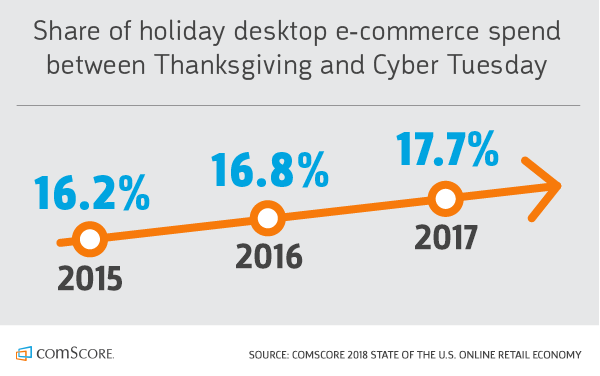 Every year, consumers are inundated with holiday marketing messages focused on Black Friday and Cyber Monday deals. The pressure is intense for brands as not every brand can afford to compete with traditional retail behemoths. Because advertising inventory is limited, brands must jump in early. Although heavy marketing by just a few brands can synergistically lift the entire market, those brands that secure inventory for themselves may see considerably stronger growth than those that don't.
The fact that consumer spending is shifting to the short six-day Thanksgiving retail holiday timeframe only compounds the pressure on marketers. Given that many consumers have fixed budgets for the holidays, as budgets are depleted in the few days after Thanksgiving, brands unable to leverage the early rush of online Thanksgiving retail holiday shoppers may find there are fewer consumer dollars to capture as the holiday season winds down.
What a Shorter Holiday Shopping Season Means for Brands
Fewer days in the holiday shopping season will present other issues regarding competition for consumers during the holiday shopping season. This year the number of days between Thanksgiving and Christmas is 33. But in 2019, that number decreases to 27. This could be problematic for all brands as the average daily spend in the two weeks leading up to Christmas has been declining.
Assuming this average daily spend trend continues, the data suggests there will be fewer consumer dollars for brands to capture after the Thanksgiving retail holidays in the coming years. Brands that fail to reach consumers early in the season may not be able to recover, possibly leading to holiday seasons that fall short of expectations.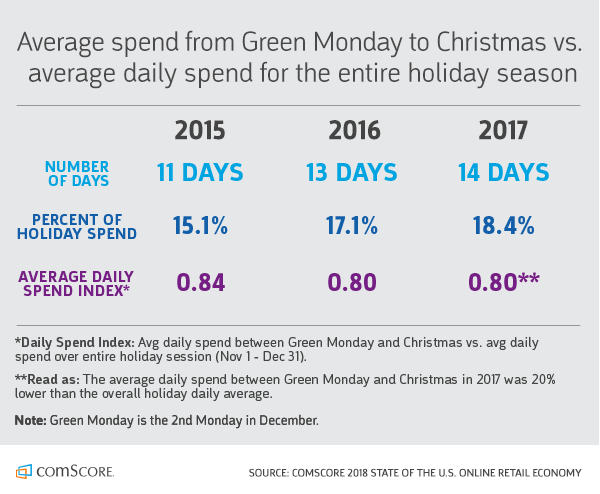 Why the Shift?
In analyzing recent trends in consumer spending, we've identified a few reasons why we're seeing a spike during the online Thanksgiving retail holidays:
Lower Prices and Deals: Many consumers use the online Thanksgiving retail holidays to complete their holiday shopping lists, in part due to the lower price points. Current data supports this trend, as desktop e-Commerce through the first 20 days of November (pre-Thanksgiving) was just 27 percent stronger in 2017 than 2015, compared to the 40 percent growth we saw for the online Thanksgiving retail holidays.
Waiting for Deals to Make a Planned Purchase: Other consumers may wait until the online Thanksgiving retail holidays to make personal purchases – ones not tied to their holiday gift budgets – knowing the items they already planned to buy may go on sale. This would naturally result in an increase in spending over the online Thanksgiving retail holidays. In fact, a recent Comscore survey found that among consumers who made a big-ticket retail purchase during the holiday season (an item of $500 or more), 52 percent had waited for holiday sales to make this purchase.
Regardless of why, the trend is clear: consumers are shifting their holiday spending to earlier in the season, particularly to the online Thanksgiving retail holidays. It is more important than ever for brands to execute marketing strategies earlier in the season to capture consumer dollars. Over the next couple years, starting as soon as 2019, there will be fewer days for brands to catch up if they don't find success around the Thanksgiving holiday.
For more insights on the latest online retail trends, you can download our presentation on the State of the U.S. Online Retail Economy in 2018 or contact us.
Comscore Media Metrix® Multi-Platform provides an unduplicated view of total audience behavior across desktops, smartphones and tablets.