- April 8, 2020
Retail Categories Continue to Highlight Major Shifts during Pandemic
The retail sector has been widely discussed in the news lately, with store closures for well-known brands, furloughed employees, and stock prices dropping more than 75 percent from their February 2020 highs. This has been especially true for certain department store brands that were already struggling to survive in a world where consumer spending continues to shift online.
While traditional department stores like JCPenney, Macy's, and Kohl's have seen significant declines in traffic over the past couple of weeks, other retailers have seen increases and are booming. Retail is a broad sector; Comscore maintains over 20 subcategories within Retail. Within these sub-categories, some are benefiting from the changes consumers have been forced to make due to COVID-19.
With millions now working from home, the Home Furnishings category has seen strong growth over the past couple of weeks, as people are likely buying items to create home offices. Similarly, visitation to the Consumer Electronics category has ballooned recently. As stay-at-home orders have been issued in many states, the Food/Supermarket/Grocery category (which includes food delivery services) has surged, growing faster than any other retail category over the latter half of March 2020.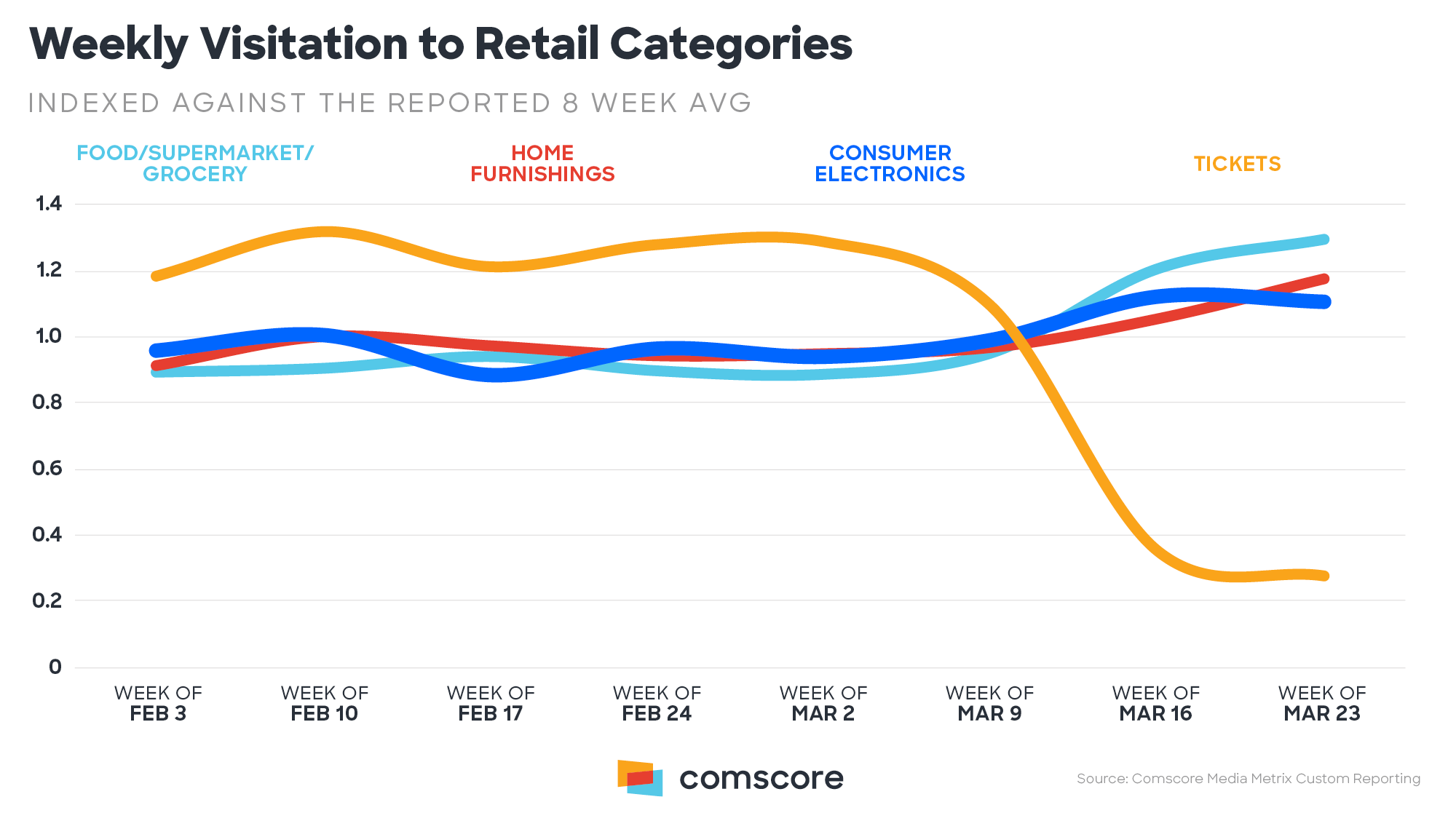 Unfortunately, other retail categories have taken a hit due to the pandemic (such as the "Tickets & Events" category). Given the bans on large gatherings around the country, these sites are seeing just 30 percent of their eight-week running average for site visits.
As consumers continue to adapt to changing circumstances, Comscore will continue to monitor and report on these shifts in consumer behavior.
Coronavirus Insights
Read our ongoing updates on shifting consumption trends and the resulting impact on the advertising and media industries on comscore.com/Coronavirus.
Sign up to be notified when new insights or data become available.
Sign Up
Comscore Media Metrix® Multi-Platform provides an unduplicated view of total audience behavior across desktops, smartphones and tablets.