- December 19, 2019
The (Almost) $8 Billion Day: Cyber Monday Sets Another Digital Commerce Record
Led by surge of mobile commerce, Cyber Monday grew 31 percent to $7.9 billion – the highest digital spending day in history.
The holiday spending season is upon us, and consumers are increasingly taking to their digital devices to do their holiday shopping. Comscore tracks digital spending (desktop and mobile) on three key spending days: Thanksgiving, Black Friday, and Cyber Monday. Compared to 2018, all three days saw double-digit growth, with Cyber Monday leading the way with a 31 percent increase compared to a year ago.
While Thanksgiving and Black Friday's digital commerce growth rates were softer than 2018, both days still had billions of dollars being spent online. Thanksgiving, which until the last few years was not as big of a draw for digital commerce, saw nearly $4 billion in digital sales, double the $1.9 billion seen just three short years ago in 2016.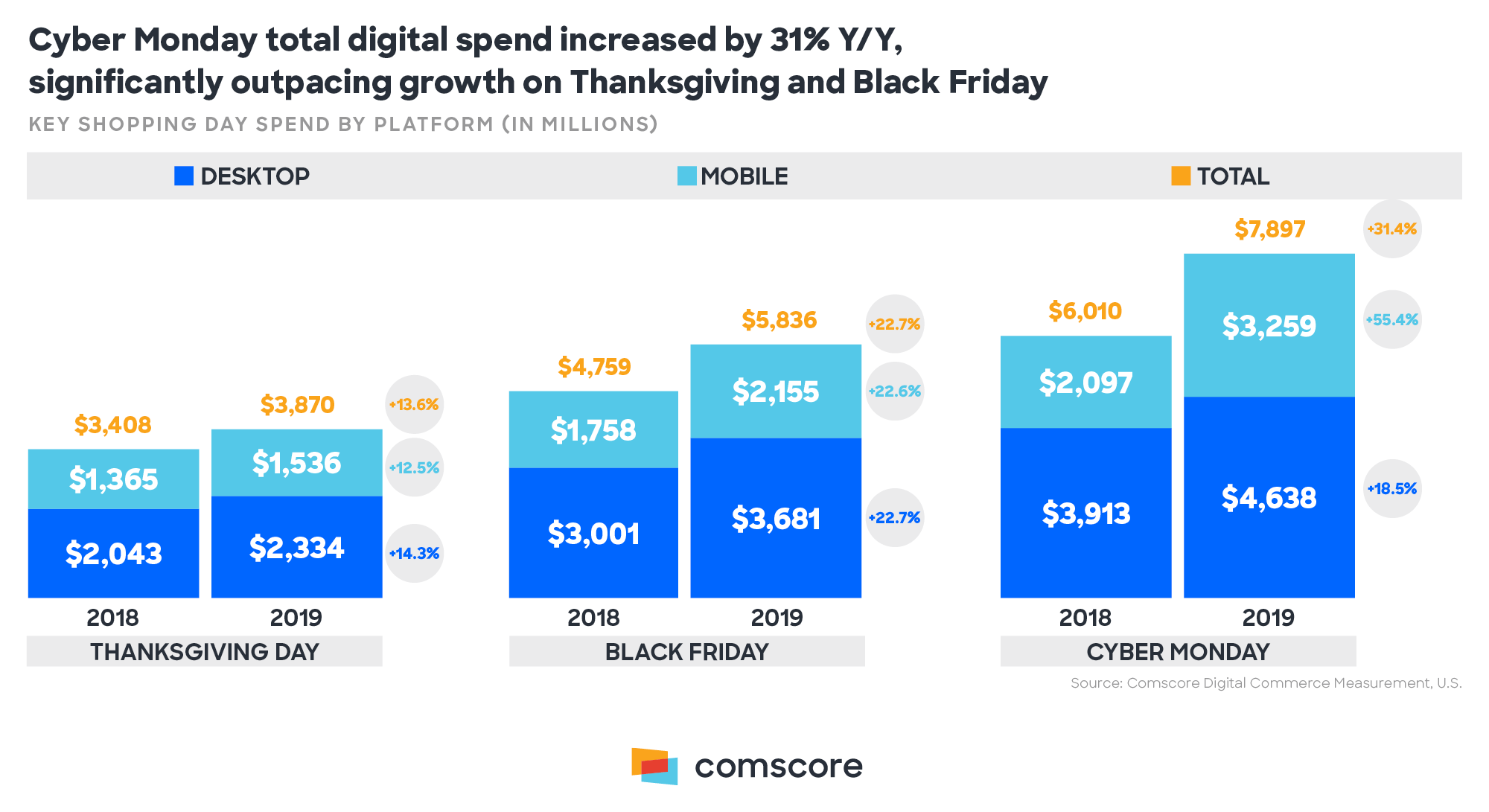 However, the star of the week was clearly Cyber Monday. Not only did it show high growth overall, but mobile commerce played an ever-increasing role. In any given month, Comscore data show mobile spending representing roughly 30 percent of digital spending. On Cyber Monday, it accounted for more than 40 percent (up from 35 percent in 2018). This increase in share really highlights how mobile is becoming much more equal to desktop as a spending platform. Larger screens, faster wireless access, and increased consumer comfort with making purchases on their mobile device are all boons for this trend.
When Comscore started measuring mobile commerce for the key holiday days in 2014, we saw mobile mostly as a research tool, but the bulk of spending and conversions still took place on desktop. The vision of Cyber Monday was of consumers heading into work, but getting little work done, as they sat on their PCs and purchased the latest deals. Now, in just five years, Cyber Monday basically starts at midnight. Consumers are on their mobile devices late, get up and check them immediately, use them during their commutes, and it becomes an ever-present spending device throughout the day. Consumers have become increasingly comfortable with making purchases on their mobile devices and this shows in the massive spending on Cyber Monday.
There may be a generational aspect at play here too. We suspect the youngest generation, Gen Z, has started to wield an increasing amount of influence in the online spending sphere. Some in this age cohort, roughly defined as 18-to-24 years old, have begun to graduate college and get their first "adult jobs." With those jobs would come an increase in their discretionary income. As this younger generation has grown up in an always-on world and are digital and mobile natives, we expect them to bolster mobile spending. As we showed in the 2019 State of Mobile Webinar, 18-24 year olds only spend 15% of their digital minutes on desktop, compared to 22-23% of minutes for those ages 25-54. Thus, as Gen Z becomes a bigger part of the digital commerce world, we expect the trend toward mobile to continue accelerating.
Are Black Friday and Thanksgiving becoming opening acts for Cyber Monday?
While both Black Friday and Thanksgiving still grew versus 2018, the growth rates were lower than the about 30 percent jumps we saw over the past couple of years. There could be a few reasons for this. Obviously, given the trend, at some point we expected the numbers to level off somewhat due to tough comparisons; there's only so many 30 percent growth years you can have in a row.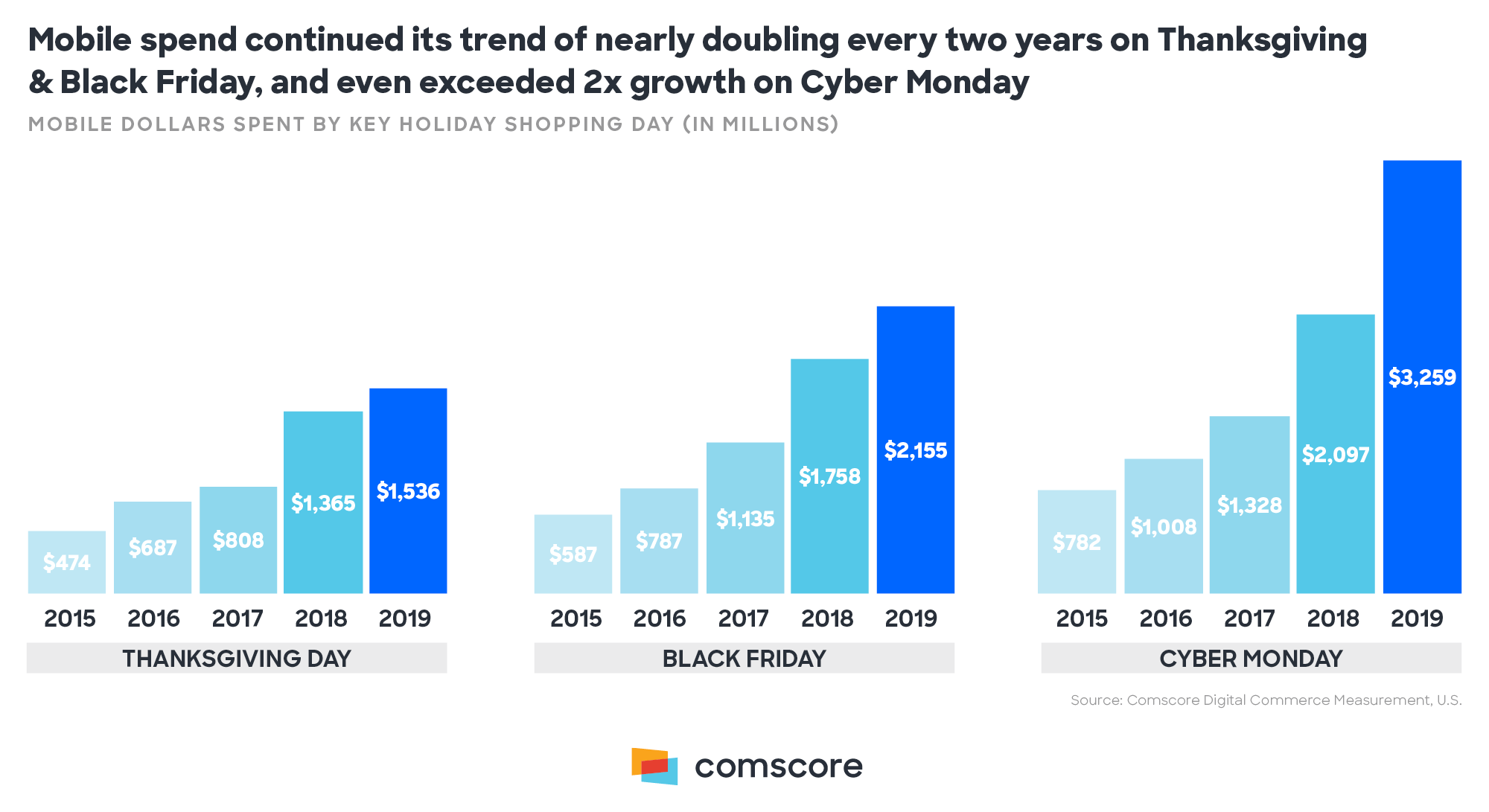 However, another theory we have is that while consumers are still doing a lot of holiday spending on those days, some may be holding out until Cyber Monday for the "best deals." Consumers have grown accustomed to retailers putting out deals over the weekend and Black Friday, but their perception may be that the "cream of the crop" may not appear until Cyber Monday. This type of behavior could incentivize some consumers to wait to make bigger purchases on Cyber Monday until they are sure they have gotten the best deal. After all, who wants to buy something on Friday and then see it on sale for even less on Monday? It presents an interesting conundrum for retailers. Do they need to focus on different types of sales on each day, or try to (as Amazon has done) declare "Cyber Week" and focus more on seven-plus days of continuous deals?
Different age groups see wildly different values on retail strategies.
In that vein, since we know retailers are always looking to adapt their strategies, we sought to understand a bit more from the consumer point of view. Within our 2019 Holiday Shopping Survey, our yearly measurement of consumer's attitudes and preferences for the holiday season, we investigated several digital strategies and asked consumers how likely would they be to utilize each of these. In most cases, we were looking to understand how willing consumers were to provide their information or sign up, if it meant they got some benefit.
The results were quite interesting. At a high level, among total consumers, the tried and true method of email campaigns rises to the top with 31 to 32 percent saying they were highly likely to use two of the email tactics we asked about (a positive lift over those "very unlikely"). However, these results don't paint as rosy of a picture of newer tactics, such as app-based strategies. The reason for this is driven strongly by generational differences.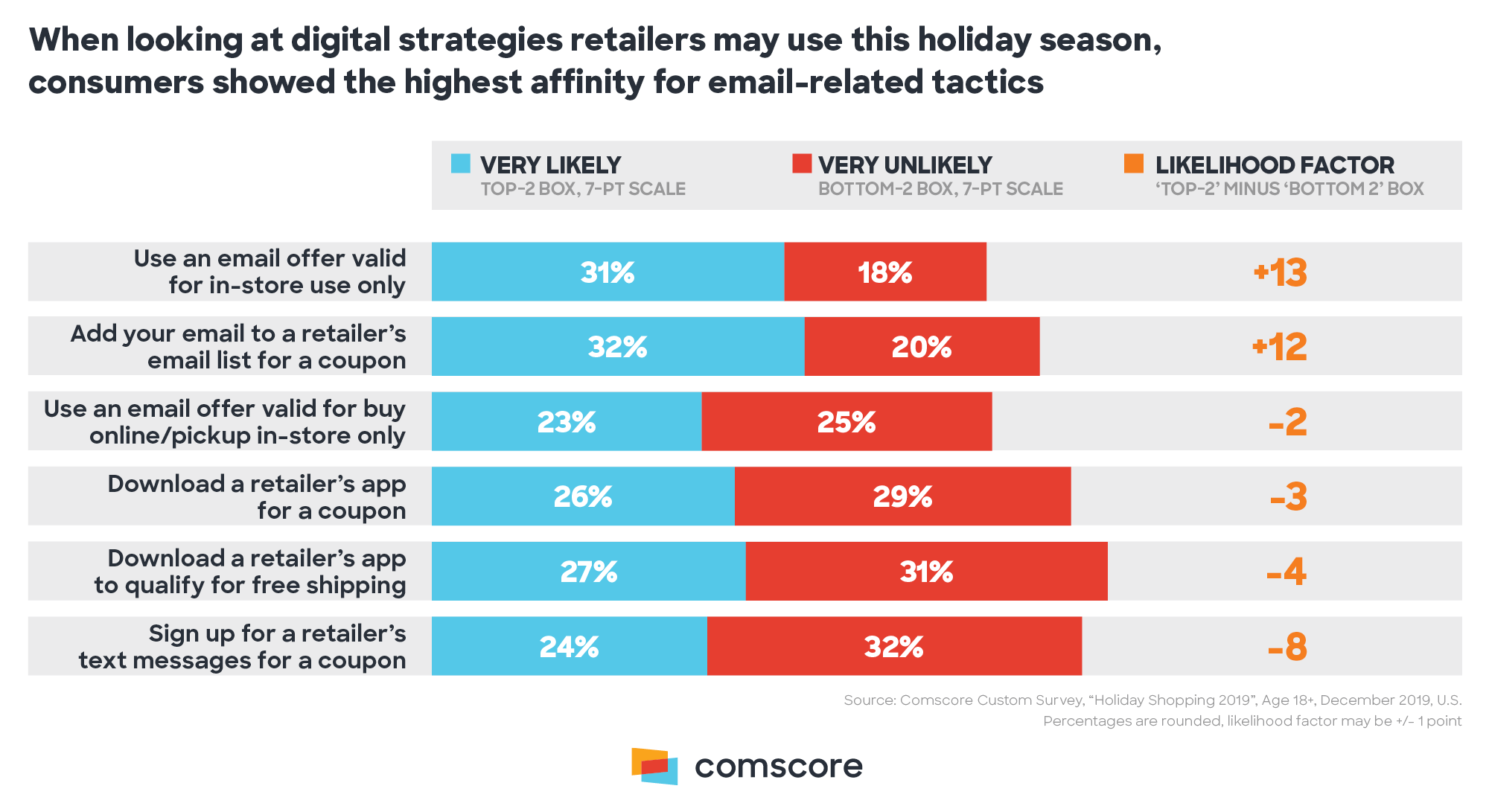 When breaking the results out by age, unsurprisingly, younger consumers were more in tune with all of these methods, particularly mobile- and app-related. What jumped out to us was the degree to which this was true. These differences in some cases were a 40- to 50-point gap.
As retailers consider promotions not just for the holidays, but beyond, it's key to understand and target the generational divides with the right tactics. As we discussed above regarding Gen Z beginning to flex their muscles as a cohort who has buying power, retailers can likely take their marketing tactics to the next level. Since we see younger consumers being far more receptive to these tactics, targeted plans that offer value in exchange for app downloads or signups could grow in years to come.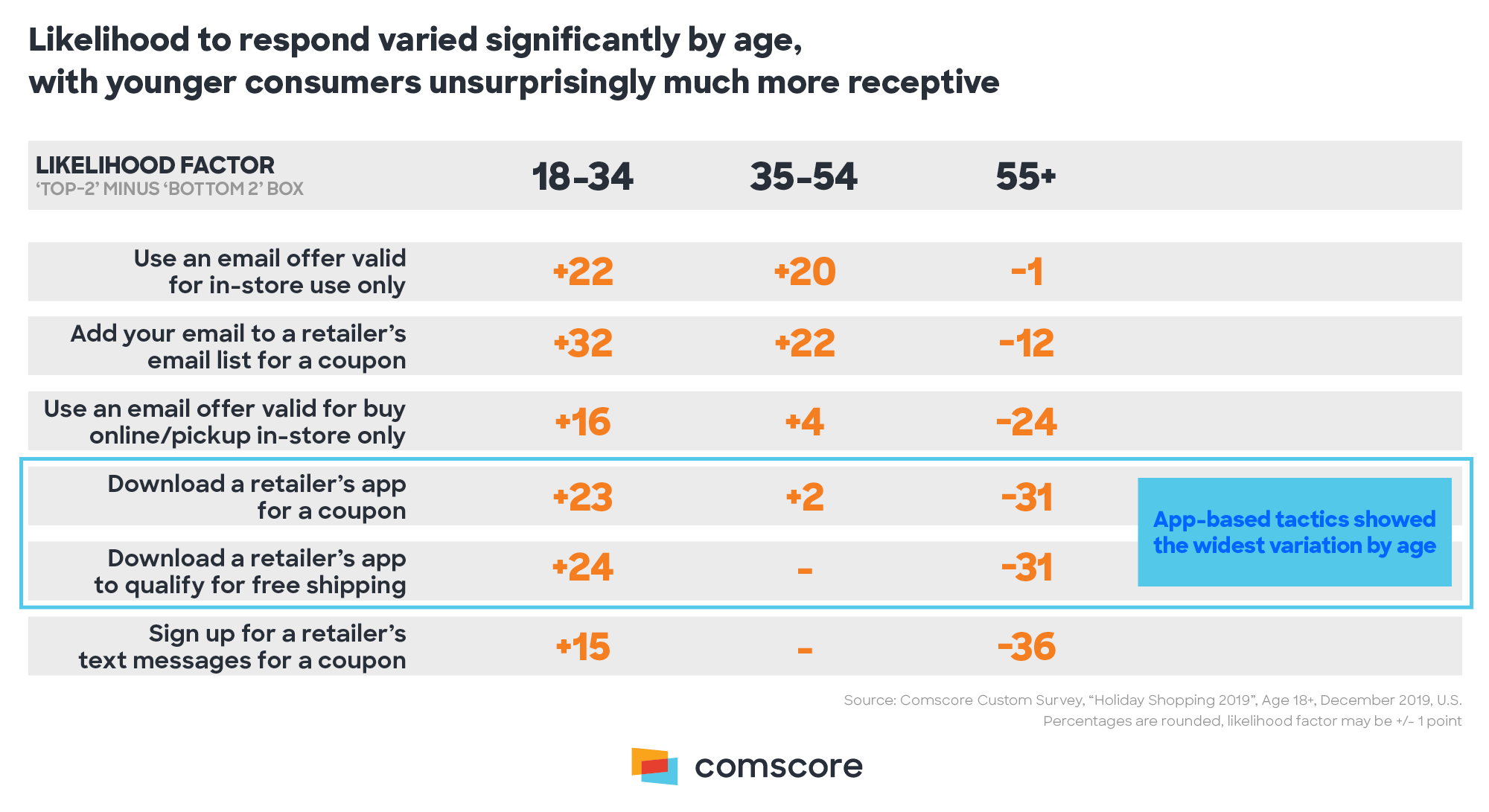 Summary
Buoyed by mobile commerce, Cyber Monday further cemented its hold as the top digital spending day of the holiday season. Based on the trends we saw for the key days we measured (Thanksgiving, Black Friday, and Cyber Monday), we expect to see strong online spending for the holiday season overall.
As we look ahead to next year (and next holiday season), it's very likely that mobile will continue to gain considerable ground and could see another big step-change. We saw one a few years ago when the trend of large-screen smartphones brought a surge of mobile commerce, and another as LTE became more widespread and mobile transactions could be completed faster and more secure. Could Gen Z push even more spending to mobile in 2020?
Coming into the new year, we are excited to provide another, deeper dive on the entire 2019 holiday season, highlighting key insights and trends we're seeing across the entire season. Expect to see that research from us in January 2020.