- December 11, 2012
The Imminent Mobile Commerce Avalanche
Mobile devices have become a ubiquitous shopping accessory, whether for checking competitive prices on Amazon while in the store (i.e. "showrooming") or seamlessly purchasing on your iPad from the comfort of your couch, known as sit-back shopping. While it may come as no surprise to many of you, there are a variety of trends that point towards a coming avalanche of mobile influence and spending as consumer behavior, marketers, and technology converge to create a perfect shopping storm.
Due to a past felony I must have committed during my early life, my karmic payback was having to go out shopping on Black Friday this year. After almost committing seppuku, I accepted my fate and hunkered down for a day of hip checks and raised blood pressure. As annoying as the crowds were, my experience (and savings) was positively impacted by a trusty sidekick: my smartphone.
Smartphone & Tablet Adoption Still Haven't Peaked
Walking around a big city it would seem that everyone has a smartphone. The familiar image of someone typing with both hands in front of them immediately denotes a smartphone user, but believe it or not, not everyone in the U.S. is walking around with an iPhone in their hand.
According to our latest figures, only 53% of all cell phone owners in the U.S. have smartphones as their primary device. With 234 Million total cell phone owners in the U.S. (age 13+), Comscore MobiLens® shows that over 110 Million cell phone users that have yet to migrate over from their feature phones. Well over 50% of new handset purchases are smartphones, which means that market penetration will continue to ascend for the foreseeable future.
Tablets saw a meteoric rise these past three years, reaching 40 Million units in the United States seemingly overnight while it took smartphones about nine years to reach a similar level. With all of the options available, adoption will continue at breakneck speed, but as noted above, there is still a long way to go before we hit saturation.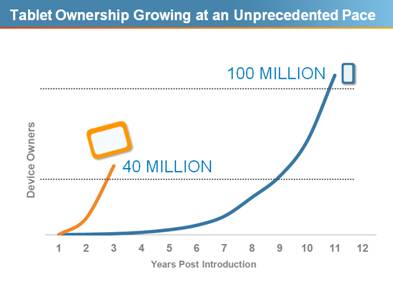 While both devices are driving this huge shift in consumption towards mobile, we should also acknowledge that as different devices, they assume a very different role in the digital shopping experience. Specifically, smartphones disrupt the traditional brick-and-mortar purchase process but don't necessarily result in direct conversion, while tablets are more often used at home – often in the evening hours – and result in more transactions.
Mobile Purchase May Be Ready to Accelerate
There's no doubt that people love the convenience, comfort and attractive pricing that digital commerce affords. But their mobile purchasing activity hasn't yet caught up to their overall usage of these new media. In fact, it's only begun to represent a meaningful percentage of total e-commerce activity in the past two years.
According to Comscore e-commerce research, 10% of online retail dollars spent in Q3 2012 were on mobile devices. We anticipate this share to increase to an even more substantial 12-13% during Q4 2012. Tablets are the driving force behind this transaction share explosion, as the ease of use and shopping experience on a tablet device lends itself rather well to actual purchase behavior and more closely approximates the desktop buying experience than smartphones. In fact, the mobile spending trend acceleration appears to coincide with the more mainstream adoption of tablets in 2011.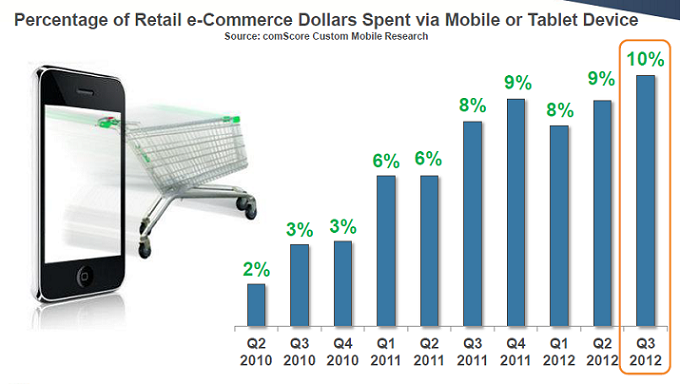 As rapid device adoption continues, not only are more consumers entering the m-commerce market, but those who may have first entered a year or two ago are integrating more advanced behaviors into their mobile repertoire. Last year's first-time smartphone owner is this year's first-time showroomer and maybe next year's first-time dabbler in tablet commerce. Continued technology and marketing investment are creating a mobile shopping environment that is increasingly easy to use and highly functional, enabling the consumer to learn and adopt these new behaviors more quickly.
Device adoption is a snowball picking up size and speed, but the tipping point will be when the average mobile consumer is comfortable shopping, showrooming and purchasing over their smartphones and tablets. Retailers must now prepare for the coming avalanche…or risk getting buried by it.