- September 23, 2019
Top 10 Entertainment video entities in India in July 2019
Comscore Video Metrix® Multi-Platform (VMX MP) provides a single, unduplicated measurement of digital video consumption across smartphone, tablet and desktop devices to give clients a deeper understanding of how, when and where video content is consumed. It relies on the Comscore Unified Digital Measurement (UDM) framework, a hybrid measurement approach that utilises panels alongside direct measurement from video publishers via census tags.
Video content publishers interested in participating in multi-platform digital video measurement can ensure comprehensive coverage of the viewing behaviour associated with their content by implementing census tags and deploying Comscore's mobile SDK. To learn more about tagging, please contact your Comscore account representative. For more information on this report or Comscore VMX Multi-Platform, please contact us.
Although videos are popular across genres, they play a critical role when it comes to entertainment. Entertainment sites contain information related to TV, Movies, Music and Music Players. The top 10 entertainment video content entities for July 2019 are listed below.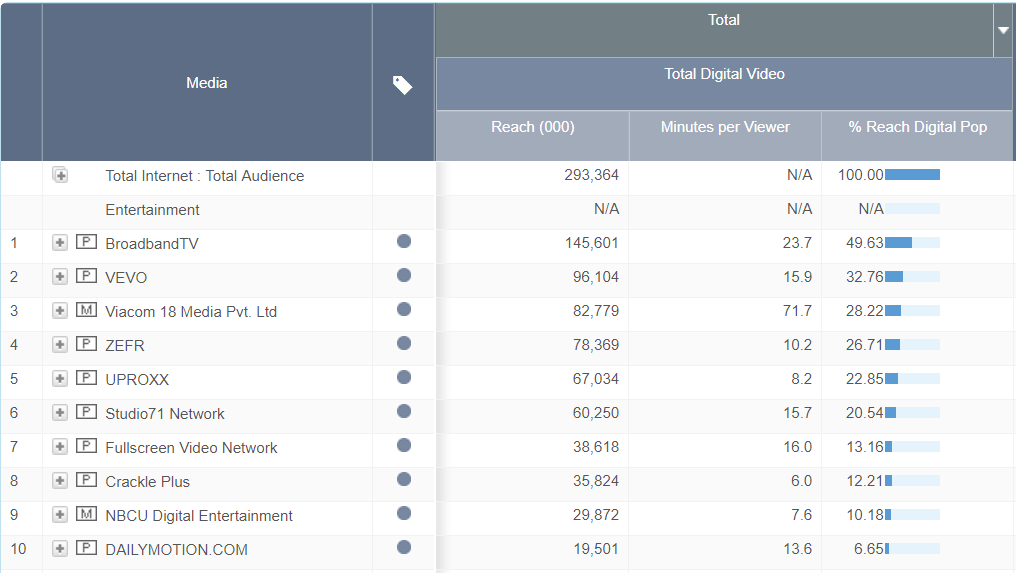 YOUTUBE.COM, which is part of Multi-Category given that it hosts many other categories in addition to entertainment, reached 92% of the digital population with over 270 million unique viewers (UVs) in July 2019. With enhanced mobile video reporting for YouTube and its Partner channels in VMX Multi-Platform reports, advertisers can plan their campaigns more efficiently while content partners are able to monetise their inventory better.
In the Entertainment category, BroadbandTV took the top position in the top 10 video entities ranking in July 2019, with 149 million UVs, reaching 50% of the digital population. VEVO is in second position with over 96 million UVs and reaching 32.7% of the digital population. Taking the third place is Viacom 18, with 82.7 million UVs and reaching 28% of the digital population.
82.7 million reach of [M] Viacom 18 Media Pvt Ltd on VMX MP is essentially comprised of the app and web traffic from Voot, its entertainment focused OTT offering. Viacom 18 breaking into the top ranks in the entertainment category is a testimony to the growing popularity of Video on Demand in India.
VMX Multi-Platform offers unduplicated, person-level video audience measurement across digital content and ads, providing insight into audience size, reach, engagement and demographic composition. Agencies & advertisers will be able to plan smarter multi-platform video campaigns by understanding the total scale of digital users across all screens as well as identify the best video properties to meet campaign objectives by comparing properties side-by-side. On the other hand, publishers & content owners will be able to understand the total reach of their content and scale of their digital audience across platforms as well as benchmark video performance against competitors and identify where to find new audiences. To learn how Comscore can help you make business decisions with confidence, please contact us.
Comscore Media Metrix® Multi-Platform provides an unduplicated view of total audience behavior across desktops, smartphones and tablets.
Learn More