- March 31, 2015
Uber, Lyft and Tinder Headline List of Fast Rising Apps of 2014
Last week Comscore released our annual U.S. Digital Future in Focus report, highlighting the key trends in digital for 2014 with an eye towards what they mean for the coming year. If there continues to be a prevailing theme in digital it is the increasing influence of mobile, and more specifically of mobile apps. Last year, in fact, mobile apps came to account for the majority of all digital media time spent, a stunning milestone demonstrating how far apps have come in a relatively short period of time.
This past year saw the rapid emergence of many apps, which is not a surprise given that the Apple and Android App Stores house well over one million apps at this point. We wanted to better understand which apps are beginning to make become a more important piece of the mobile ecosystem, so we did an analysis of the top-growing apps among those with at least 1 million monthly visitors in December. We found many hot apps at the top of the list, including Uber (+440%), Lyft (+835%) and Tinder (+737%).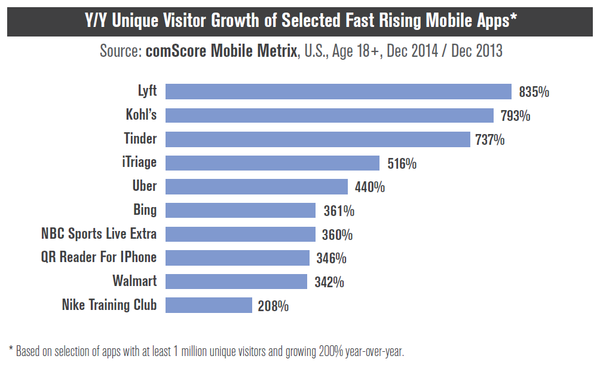 While these brands rank among the most buzzed-about names in emerging tech, we also saw some very well established brands achieve huge gains over the year. Perhaps most notable among this list are two well-known retailers – Kohl's and Walmart. Kohl's had an impressive 793% year-over-year growth rate, and Walmart grew 342% while adding nearly 20 million new users.
Want to find out more about fast risers and other key trends in digital media? Download our 2015 U.S. Digital Future in Focus report today.