- February 4, 2020
Veni, Vidi, Video: Online streaming in the UK
With the 2020 edition of the BAFTAs behind us and days to go before the Oscars, Netflix has once again asserted itself as a movie powerhouse, with 'Marriage Story' and 'Klaus' picking up BAFTA awards, and 'The Irishman' being nominated for various Oscars. Given Disney, Apple, and Amazon's push into the video streaming space, and the proliferation of alternatives such as BritBox, or NowTV, the ability to deliver truly appealing content will become even more critical to grab market share.
But who are the most avid consumers of online video in the UK? How have their habits evolved over time? And will they stick with their preferred service, jump ship, or subscribe to more streaming services? To answer this, we looked at video streaming behaviour in the UK on desktop and mobile devices. Consumers who streamed video on these devices tended to access sites or apps in the following categories (the full list of entities used for our analysis is provided at the end of the article):
Free streaming services. These are the offshoots of the original broadcasters in the UK. With the exception of the BBC, they rely on advertisement to monetise their viewership. Examples of these sites are All 4 (Channel 4), BBC iPlayer, and ITV Hub.
Subscription services: They offer an all-you-can-watch video streaming service, for a fixed, monthly recurring fee. Examples of sites that belong to this category are Netflix,Amazon Prime Video, DisneyLife, BritBox, Mubi and Snagfilms.
Pay-per-video sites: This is where consumers can buy or rent individual videos for a fee. Examples of sites that belong to this category are Sky Store, Google Play, and Rakuten.tv.
In the period from December 2018 to December 2019, the number of unique visitors who accessed these sites or apps barely changed: the number of unique visitors to these sites went from 27.6 million to 28.7 million – a 3.9 % increase (see chart below).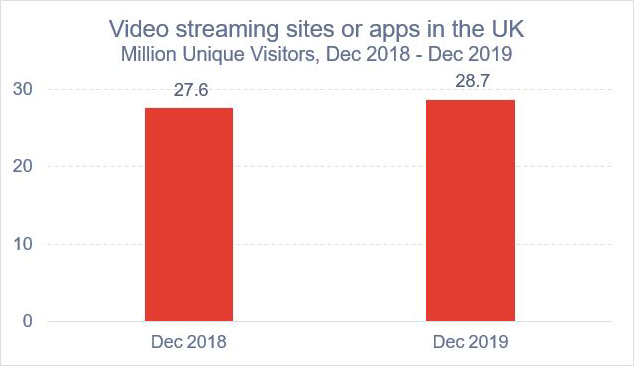 Source: Comscore MMX Multi-Platform, Total Audience, Dec 2018 – Dec 2019, UK.*
It is tempting to conclude that the market for online video has reached its saturation point. In fact, the reality is more nuanced than that. First, our analysis excludes traffic to streaming services through set top boxes and smart TVs. Second, a breakdown of audiences by platform paints a different picture: while video watching has decreased on desktop devices, it has increased on mobile devices (see chart below).
One possible interpretation for the decline of desktop device traffic is that consumers are adopting smart TVs and other connected devices. This allows them to watch movies or TV programmes on a large screen while bypassing the desktop browser altogether. As for the increased video consumption on mobile devices, the common practice of bundling mobile phone subscriptions packages with all-you-can-watch movie streaming from select services is likely to have promoted the emergence of new viewing habits. (People catching up with their favourite TV show on a smartphone while commuting is now a common sight.)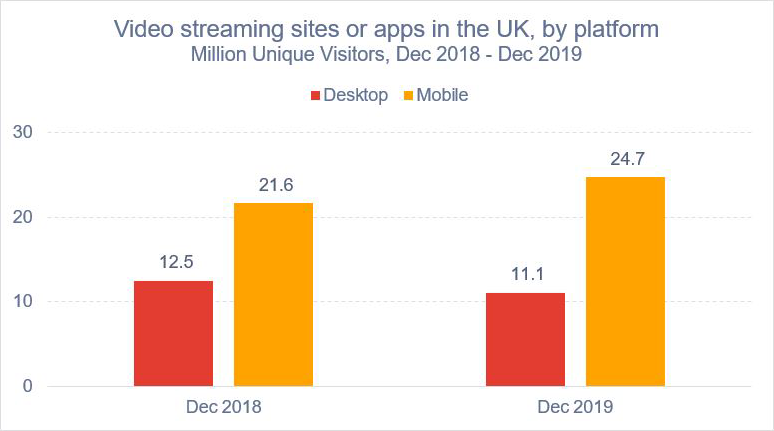 Source: Comscore MMX Multi-Platform, Total Audience, Dec 2018 – Dec 2019, UK.*
Given the prevalence of video streaming on mobile devices, we end this article by focusing on mobile audiences. Specifically, we look at the adoption of video streaming across different age groups, as well as the time spent on streaming sites. As a proxy for customer loyalty, we disclose the proportion of each demographic segment who visited more than one streaming service. The results are summarised in the table below: clearly, younger audiences are far more likely to visit video streaming sites or apps on mobile devices (66% - two thirds – for consumers in the 18-24 age bracket) than older audiences (51% for consumers in the 55+ group). Younger audiences also spend far more time on these sites and apps: those in the 18-24 age group for example spent more than four times the amount of time that the 55+ consumers did.
Last but not least – and this is a key insight for services entering the video streaming space, loyalty increased as the age of consumers increased: fewer (44%) of consumers aged 55+ visited two or more video streaming sites on mobile. For consumers in the 18-24 age bracket, that proportion was 55%.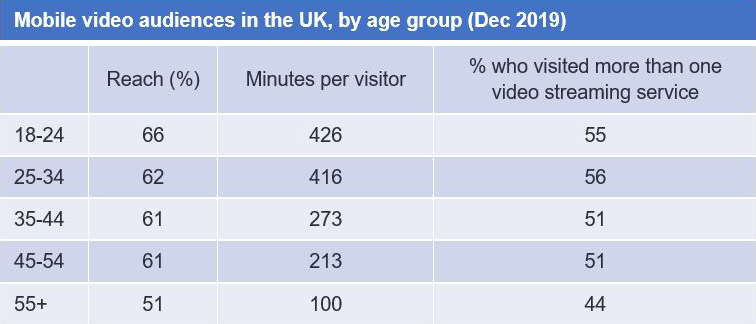 Source: Comscore MMX Multi-Platform, Total Audience, Dec 2019, UK.*
There is no doubt that with their financial firepower and marketing nous, video streaming services such Apple's or Disney's will be able to grab market share; there might even be a bit of room for niche players such as BritBox. What is clear is that the market is quickly reaching a level of maturity that will require new players as well as incumbents to carry out a granular analysis of their audiences if they want to extend their reach and take more market share. One thing is for sure, in the coming months, the online video space in the UK will be a very interesting space to watch.
*The data in this post is based on a de-duplicated, custom-defined list that includes: [M] Netflix.com, [M] BBC iPlayer, [P] ITV.com, [P] Twitch.tv, [M] Channel4.com, [C] Amazon Prime Video (mobile app), [M] NowTV.com, [C] All 4 (mobile app), [C] Sky Go, [M] Crunchyroll, [C] Google Play Movies & TV (mobile app), [C] Primevideo.com, [P] Hulu, [P] Hayu.com, [P] Yidio.com, [P] Mobdro.com, [S] DisneyLife, [M] SkyStore.com, [C] Rakuten.tv, [M] Hbo, [P] PlexApp.com, [P] Plex.tv, [P] Kodi.tv, [P] MoviesAnywhere.com, [P] Uktvplay.com, [M] UKTV Play (mobile app), [P] Pluto.tv, [P] MUBI.com, [P] Shudder.com, [P] BritBox.com, [M] Popcornflix.com, [P] TVCatchup.com, [S] SonyCrackle.com, [M] SHOWTIME.
Comscore Media Metrix® Multi-Platform provides an unduplicated view of total audience behavior across desktops, smartphones and tablets.
Learn More