- June 25, 2020
We need to talk about…holidays
Tourism contributes over 10% of Europe's GDP and is responsible for the employment of over one in ten workers in the region, according to the estimates from the European Travel Commission. A lot hangs in the balance for this industry, which generates much of its revenues during the summer season. But to what extent have the coronavirus-related lockdowns impacted consumers' holiday plans? Will they go abroad, travel within their home country, or indulge in a staycation? In this blog post, we assess the situation by looking at online consumer behaviour in Spain and the UK, two countries with sizeable tourism industries
As a first step, we look at activity on sites and apps related to hotels, resorts, and home-sharing. As the chart below shows, activity in both Spain and the UK dropped sharply between March and April 2020. In both countries, it then increased in May 2020: in the case of Spain, it almost reached the level seen in March 2020 (although that's still 60% below May 2019 levels); but in the case of the UK, the uplift was far less pronounced.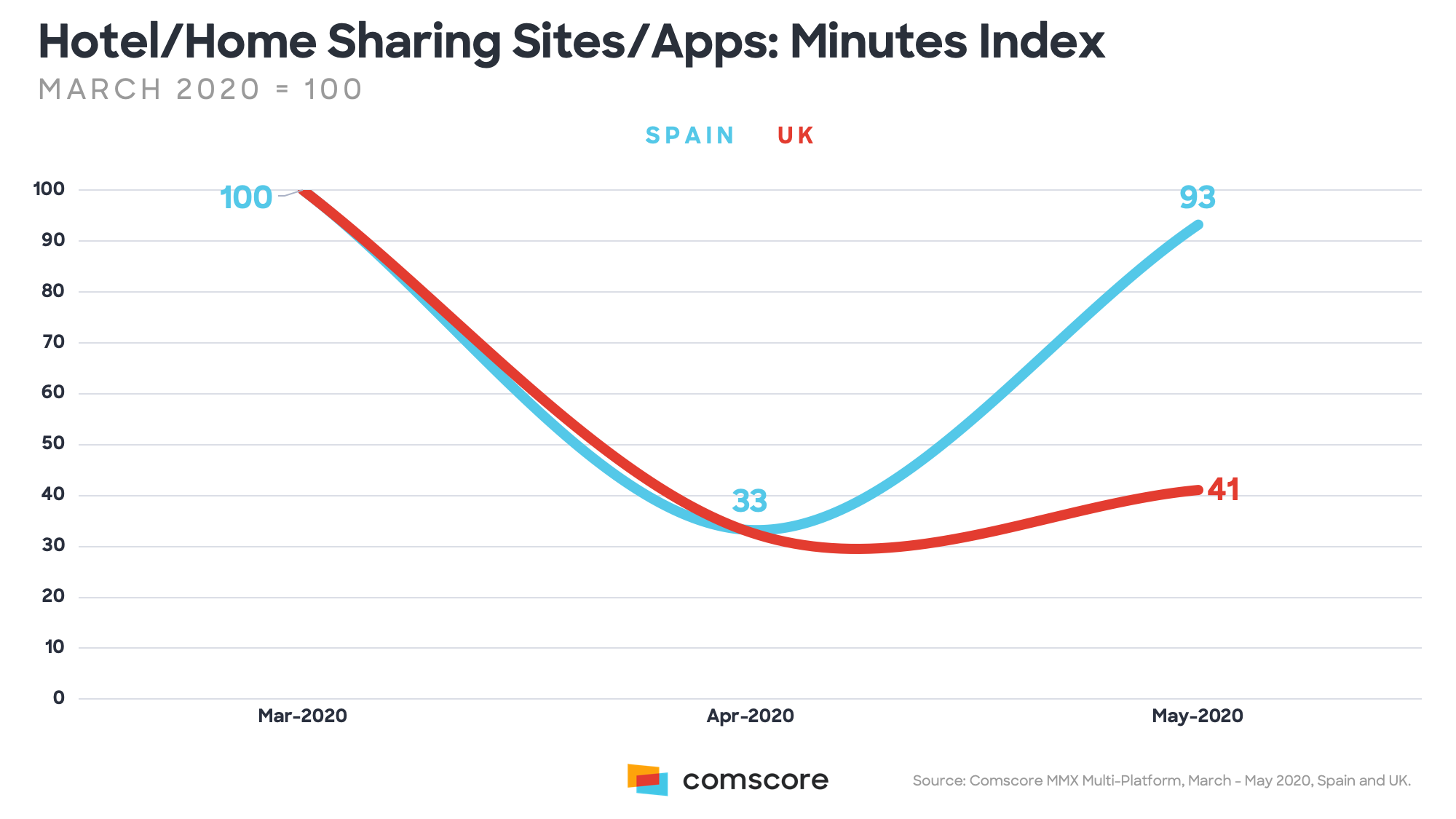 A possible reason for the different trends observed in May 2020 perhaps lies with how the individual countries responded the pandemic: Spain went into lockdown on March 14, 2020, and its lockdown rules were stricter than those in the UK. Spain also opened sooner: restaurants and hotels began to open at the end of May 2020 in Spain. By contrast, the UK government declared its national lockdown on March 24, 2020 – ten days after Spain did so. The lockdown rules in the UK were more flexible than those in Spain, and they are to be lifted later: hotels and restaurants are scheduled to re-open on July 4, 2020.
Another indicator of potential summer holiday travel trends is the amount of time spent on sites and apps in the Online Travel Agents category (see chart below). Again, we are seeing a severe drop in activity in April 2020 in both countries, when compared with the previous month. As before, we are seeing more of a bounce back in Spain, while activity stabilised in the UK.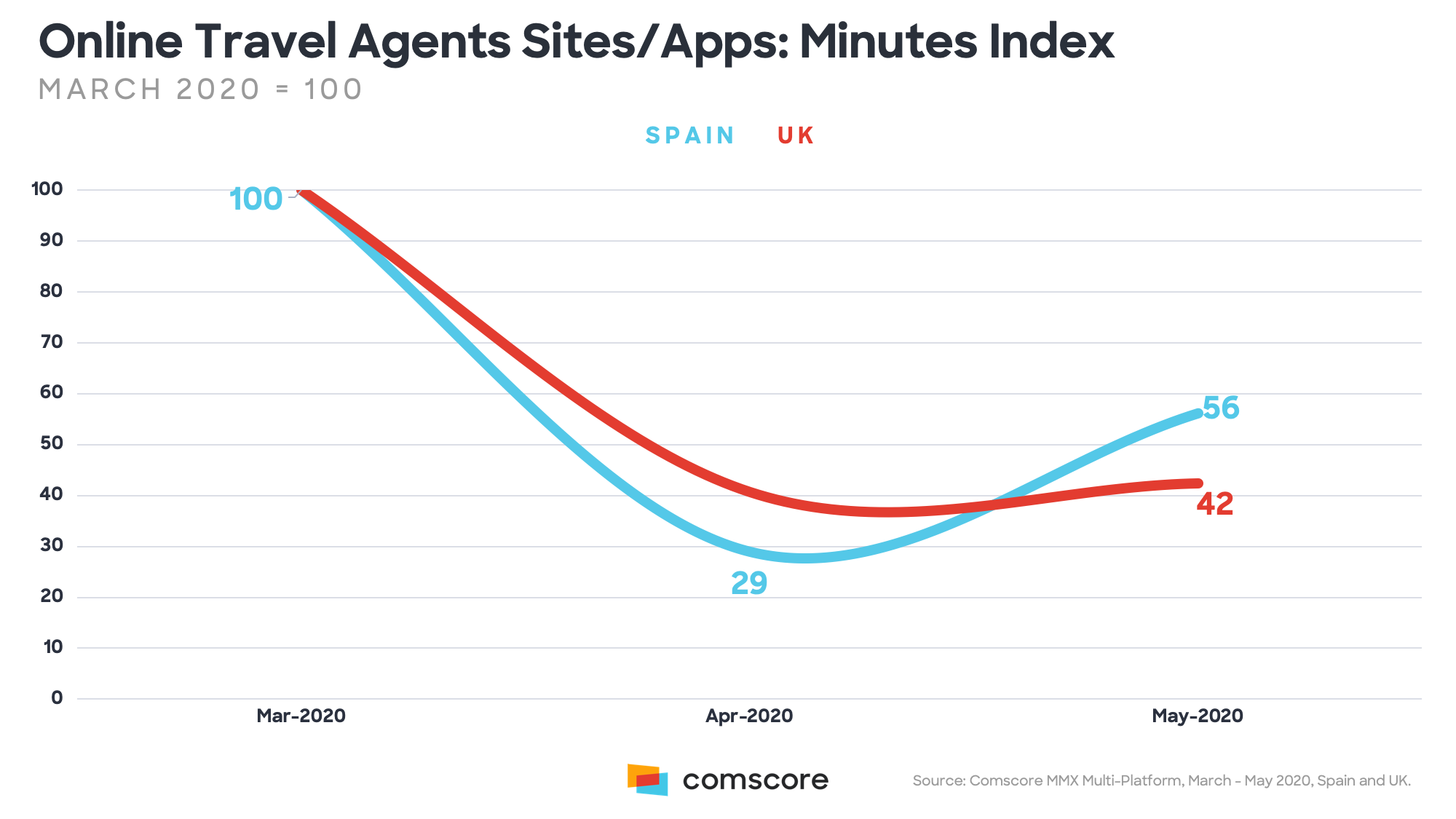 Clearly, a portion of consumers in both these countries are forging ahead with holiday plans. But will they fly abroad? Or will they stay within their country of residence? Two insights provide valuable clues to the answer. One is the level of activity on sites and apps in the Airline category. As the chart below shows, the limited increase in activity in May 2020 in both Spain and the UK suggests that, for many, international flights aren't quite in the cards yet. In the UK, an imposed 14 day quarantine upon arrival will no doubt have prompted consumers to put their flying plans on hold until a later date.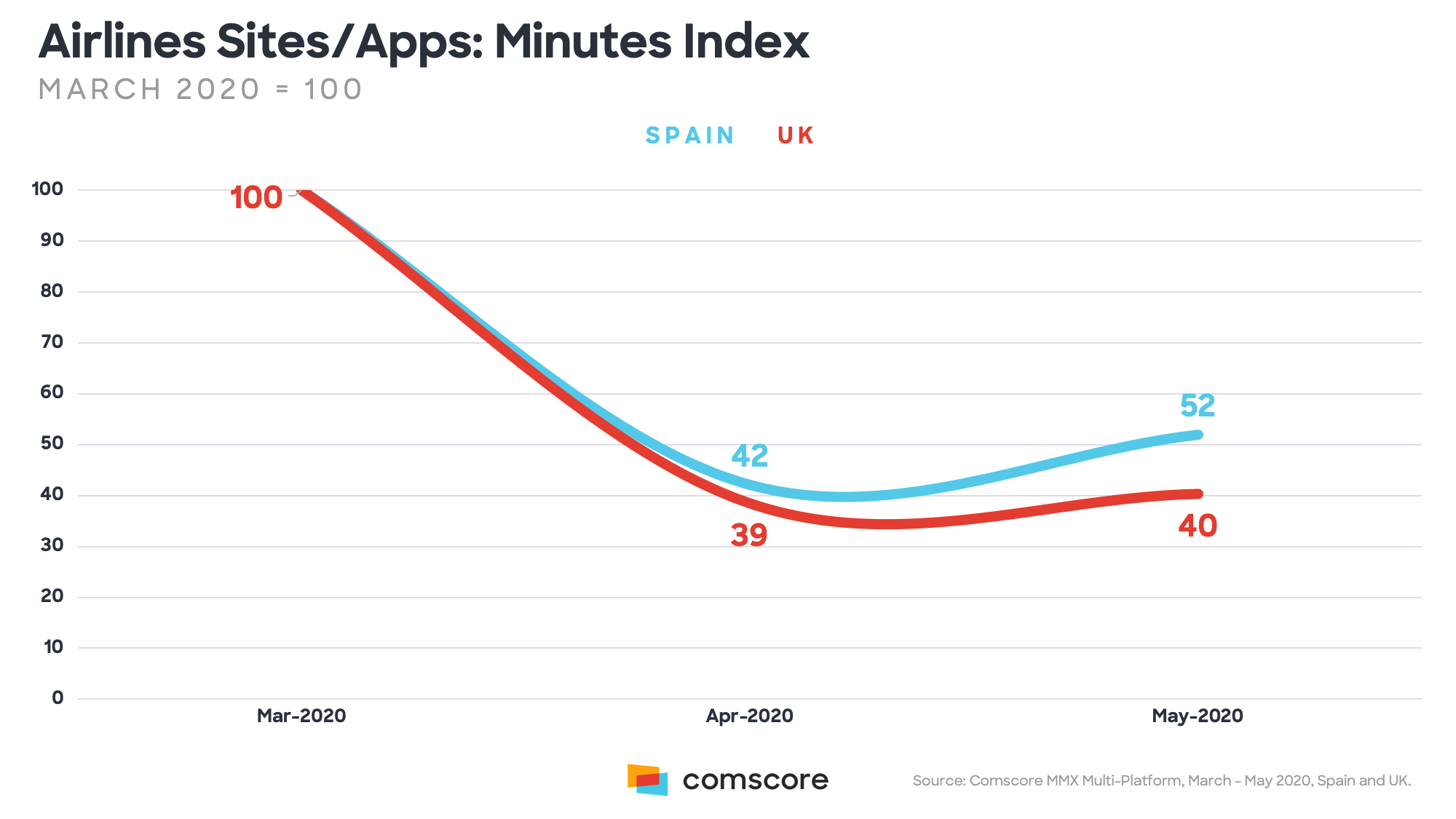 Another worthy indicator is the level of activity on sites and apps in the Travel Information category (chart below). Here we see that the amount of time spent on these sites and apps in May 2020 is practically equal to the month prior. This suggests that consumers are sticking with destinations they already know, as opposed to exploring lesser known, far flung places.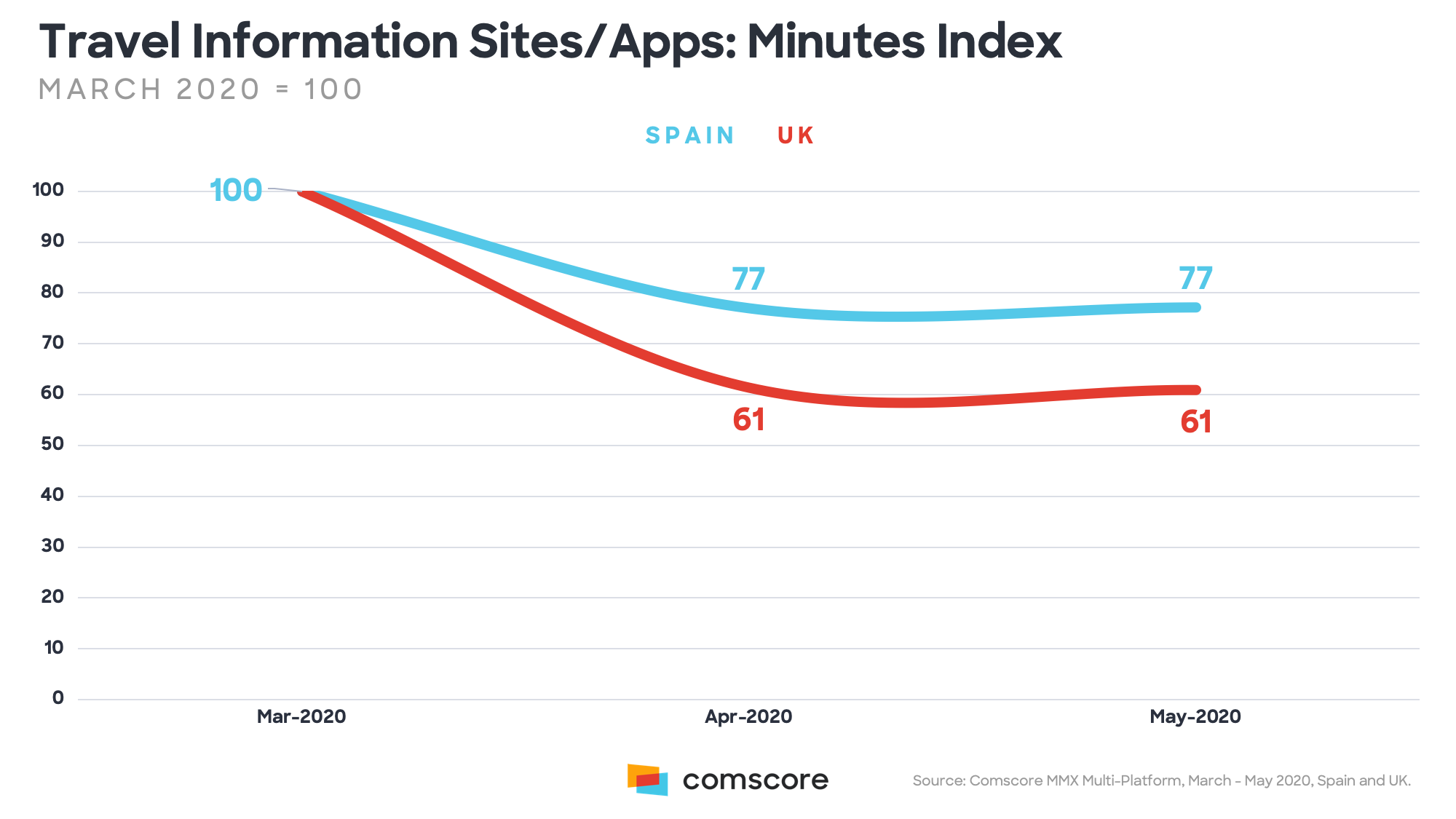 Many industry commentators have already warned of testing times ahead for the Travel & Tourism industry. However, the above evidence suggests that the scale of the impact depends with how fast a country went into lockdown – and how fast it re-emerges from it. The big unknown is whether European consumers will stay close to home in their own country of residence, or whether they will take their chances abroad and travel to their favourite holiday destinations. Here the evidence suggests that consumers are likely to opt for the former option.
Coronavirus Insights
Read our ongoing updates on shifting consumption trends and the resulting impact on the advertising and media industries on comscore.com/Coronavirus.
Sign up to be notified when new insights or data become available.
Sign Up
Comscore Media Metrix® Multi-Platform provides an unduplicated view of total audience behavior across desktops, smartphones and tablets.