- June 30, 2016
Dutch Spend Half of Desktop Time Watching Videos
As online video consumption continues to increase and expand onto new platforms, video plays an increasingly valuable role in the marketing mix. Desktop remains a growth platform for video, with a 16% increase in viewers from November 2015 to April 2016 meaning that 100% of the Dutch digital audience watches online videos. Understanding behaviours across categories can help agencies and advertisers to align digital strategies and publishers to offer services more effectively.
What are the Dutch watching online?
In terms of total viewers, YouTube, Facebook, Vimeo and Vevo account for 70% of the total videos watched in Netherlands during April 2016.
In general, ads represent 16% of the total videos watched in the Netherlands in April 2016. Sports, games and health categories had the highest share of ads vs content.
494 million video ads were served in Netherlands during April 2016. On average, each video viewer in the country watched 36 video ads during the month.
Millennials are less likely to watch video ads when compared to people between 35 and 54 years old. 24 and 40 video ads were the average ads per person during April 2016, respectively.
Netflix is not only the biggest on demand service, it also leads consumer engagement in Netherlands with 9.3 hours spent per viewer during April 2016.
Netflix unsurprisingly recognizes the value of video, including videos on 80% of their Facebook posts in the Netherlands and posting on average 5 times per week. Their twitter account saw its 52,000 followers interact with their social content 80 times per tweet during the last month.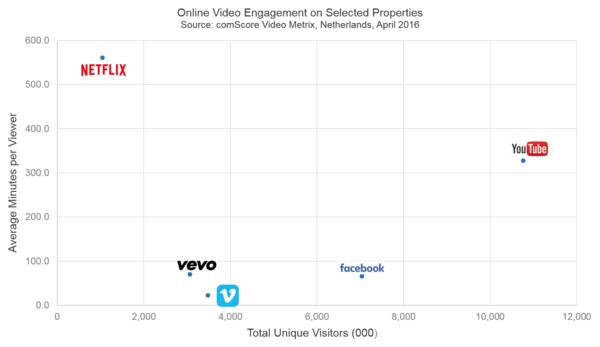 Video Metrix can help you understand your target audience size and engagement. All of these metrics can be compared and used to understand how your audience is consuming video content.