- July 29, 2014
Dutch Digital Market Overview June 2014
Your monthly snapshot of digital audience trends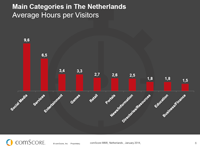 13.6 million people in The Netherlands accessed the internet via their desktop PCs or laptops in June 2014. Overall, 82% of all internet users also consumed videos online.
Yahoo reached over 3.8 million users with its online offerings, making it the top performer in terms of Month-on-Month audience increase among the Top 15 online properties. Broadcaster RTL Group Sites reached 1 in 3 Dutch internet users and entered the Top 10 online property rankings for the first time in 2014.
In June, Collective @ YouTube entered the Top 15 YouTube Partner rankings for the very first time in 2014, reaching 859.000 video viewers in The Netherlands.