-
August 21, 2014
The U.S. Mobile App Report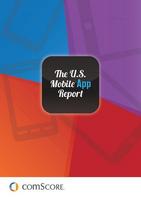 The days of desktop dominance are over. Mobile has swiftly risen to become the leading digital platform, with total activity on smartphones and tablets accounting for an astounding 60 percent of digital media time spent in the U.S. The fuel driving mobile's relentless growth is primarily app usage, which alone makes up a majority of total digital media engagement at 52 percent. In this report we let the numbers and charts do most of the talking, as the story of today's app landscape is told through the visualization of Comscore's mobile data.
Some key questions to be answered in this report include:
How fast has mobile app usage been growing?
How often are people using apps on each device?
What percentage of time are consumers spending on their top apps?
How do iOS users differ from Android users demographically and behaviorally?
Which mobile app content categories are we spending most of our time consuming?
How do the top apps compare in different age segments?
Comscore Media Metrix® Multi-Platform provides an unduplicated view of total audience behavior across desktops, smartphones and tablets.