November 4, 2014 - Event: UK Digital Market Overview
UK Digital Market Overview September 2014
Your monthly snapshot of digital audience trends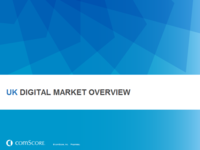 Here is a brief summary of some of the key topics covered in this report:
The Total Digital Population stands at 47.3m Unique Visitors in September, marginally down (-1.5%) on the previous month. The audience accessing exclusively from Mobile or Tablet devices was 2.3m, or just more than 5%.
Google Sites remained the leading property based on Total Digital Population, followed by Yahoo Sites and BBC Sites.
For September, the audience under review were ABC1 Females and whilst the categories visited are not entirely surprising that perhaps doesn't reveal the whole story.
Analysis of the Real Estate category revealed the pattern of audiences moving from PC-only to favour Mobile/Tablet-only access with nearly one-third of Real Estate audiences opting to access via these devices.