- May 26, 2020
How COVID-19 is Changing the Way Americans Engage With Streaming Services
In this blog post, we use data from Comscore's Total Home Panel to examine changes in the ways U.S. audiences access connected devices in their home, with a focus on engagement with streaming services.
As millions of Americans adjusted to working from home and distance learning due to COVID-19, in-home data usage spiked. We can see from Comscore's Total Home Panel that average in-home data consumption was up 33 percent over the first ten days of May 2020 vs. the same amount of time in May 2019 (May 1-10, 2020 vs. May 1-10, 2019). And this comes after 36 percent and 28 percent year over year jumps in April and March 2020, respectively. The devices driving this growth from a year on year change perspective have been smart TVs, mobile phones, streaming boxes/sticks, and smart speakers.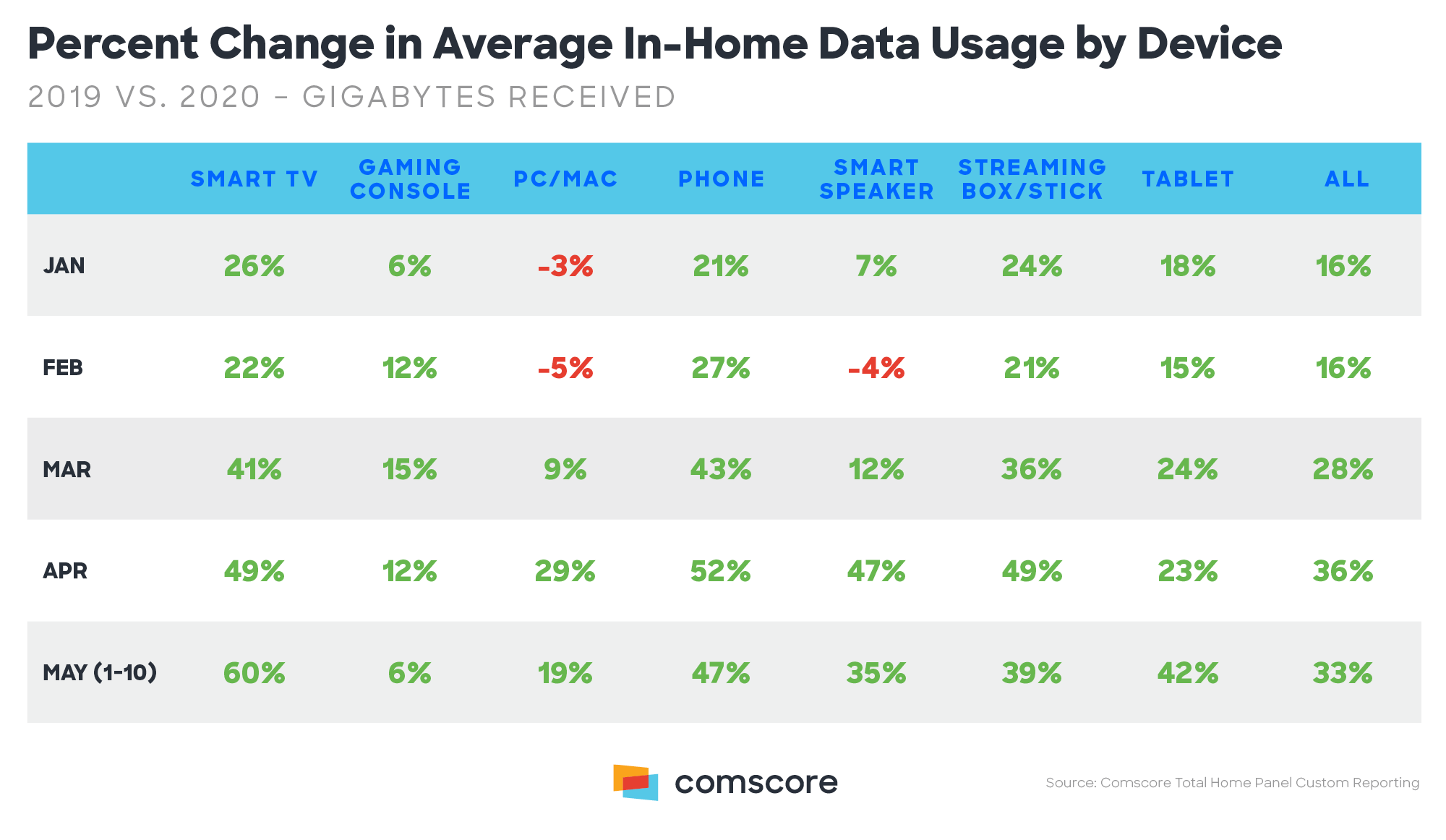 We were already seeing double digit year over year growth in February and early March 2020, but once states began issuing stay-at-home orders, in-home consumption saw rapid growth. Usage remained strong through the week of April 20, but we have since witnessed a decline in data consumption over the past couple weeks, possibly due to some states easing their social distancing protocols.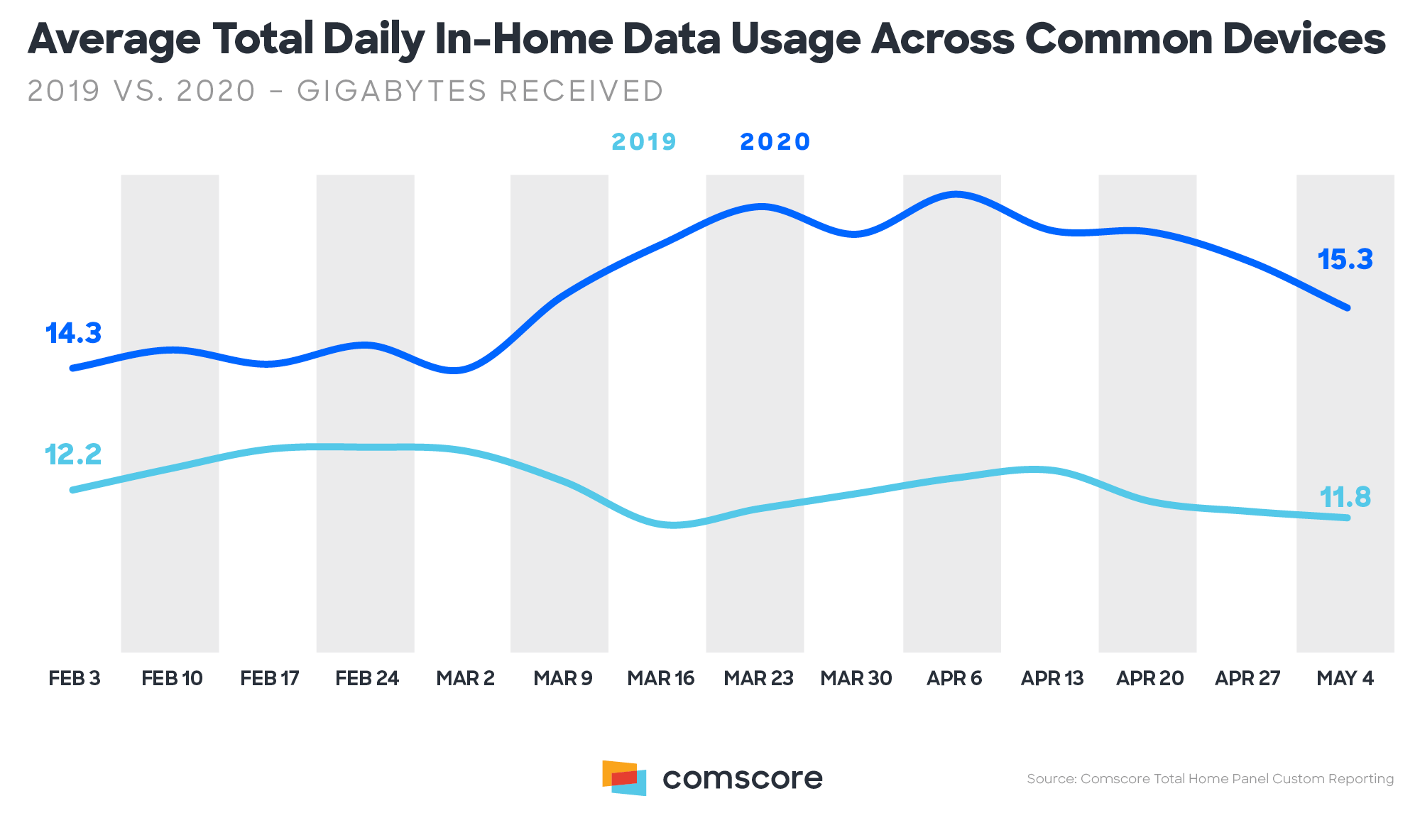 When it comes to viewing entertainment through devices like streaming boxes/sticks and smart TVs, the "big 5" streaming services still account for the majority of total OTT hours streamed at home – upwards of 80 percent. However, the last two months saw shifts in how much services engaged their viewers. Netflix, Amazon Prime Video, and Disney+ saw growth in share of streaming hours between the week of May 11 vs. February 3. And, while Disney+ currently holds a smaller share of streaming hours among the "big 5", it is worthwhile to note that it is nearly two times larger than the next largest video-oriented OTT app offering in terms of streaming hours.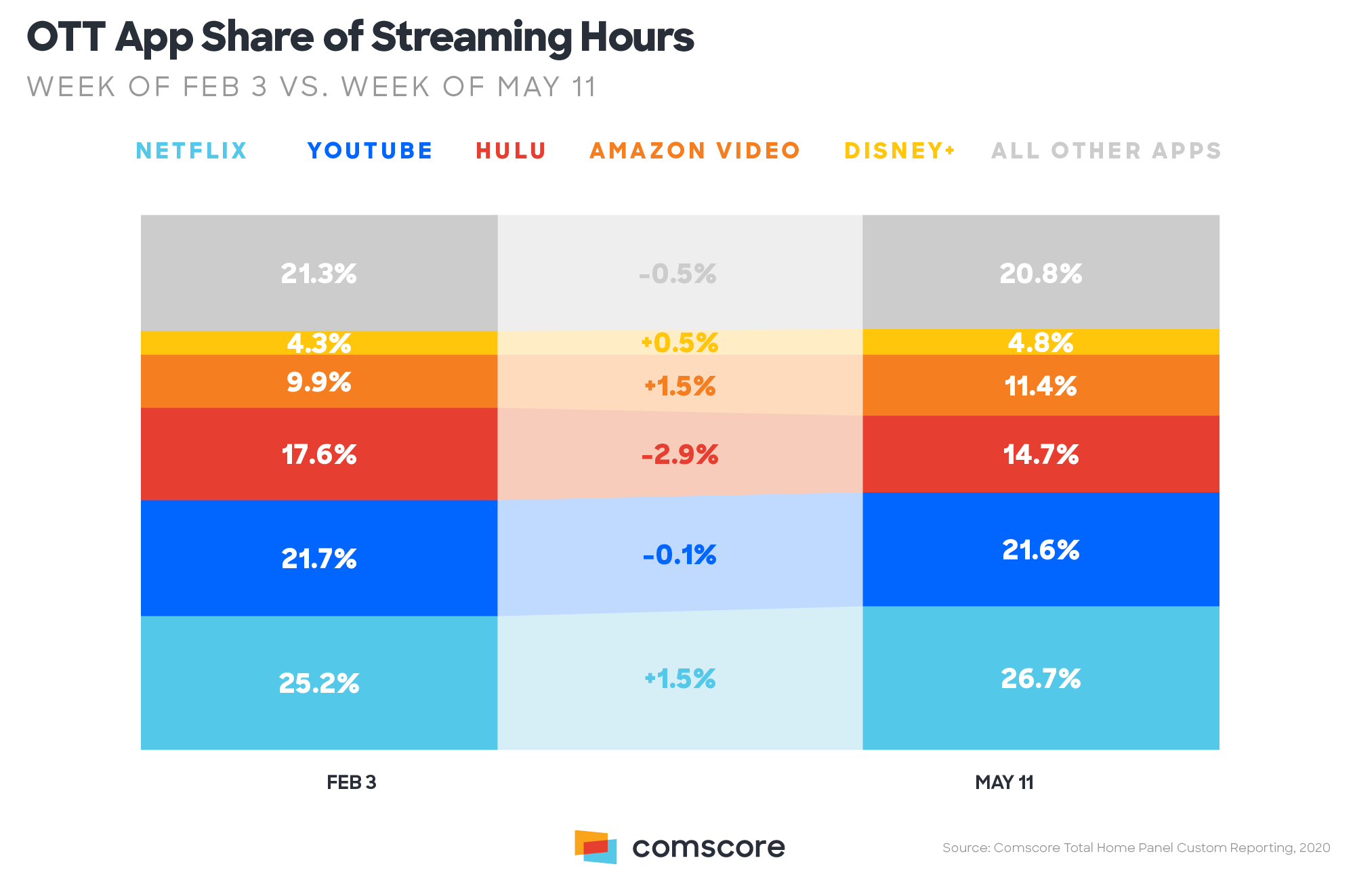 By shifting the view to show growth relative to each platform's share, one can see how Disney+ took off during this pandemic. Some of Disney's growth, however, is likely related to the straight-to-VOD release of the movie "Onward" which landed on Disney+ on April 3, 2020 as well as other notable releases in early May.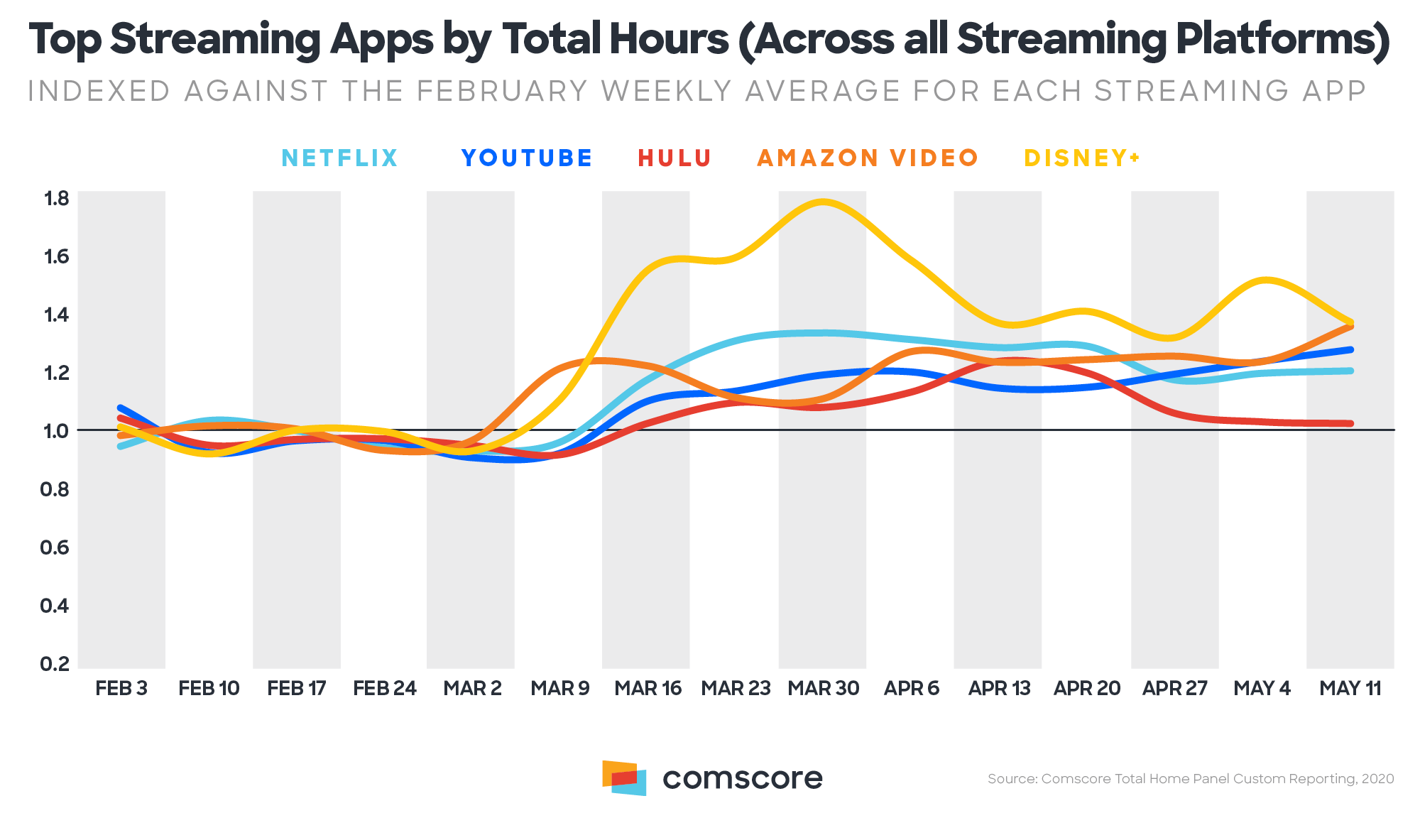 As governments re-open, in-home data consumption and OTT streaming will likely continue to decline, and Comscore will be monitoring these trends.
Want to better understand the connected home and shifting consumption trends? Contact us to learn more.
Coronavirus Insights
Read our ongoing updates on shifting consumption trends and the resulting impact on the advertising and media industries on comscore.com/Coronavirus.
Sign up to be notified when new insights or data become available.
Sign Up
Comscore Connected Home™ enables users to better understand consumer engagement with technology and media by measuring behavior across every network- or router-connected...

Comscore OTT Intelligence™ provides clients with critical insight into consumer over-the-top (OTT) streaming activity on TV-connected devices, including smart TVs, streaming...