- July 29, 2020
Streaming Service In-Home Usage Shifts During Summer 2020
Last month, Comscore presented its annual State of OTT webinar, which highlighted a massive surge with in-home device usage since the coronavirus pandemic took hold.
Comscore also showcased in a recent blog how the actual volume of data consumed in consumer households has increased in 2020 vs. 2019. In May 2020, we were still seeing a 30 percent increase in data consumption vs. May 2019, but the gap to 2019 had declined from 36 percent in April 2020.
Overall, we've been reporting larger volumes of data consumption in 2020 vs. 2019, but the difference continues to shrink, across all device types as we continue into summer.
In June 2020, data usage via smart TVs was still 28 percent greater than in June 2019, but this was down from 55 percent the prior month. Gaming console year-over-year data usage was flat in June 2020, down from eight percent in May 2020. Streaming boxes/sticks data usage was still up 14 percent year-over-year in June 2020, but down 32 percent from the previous month.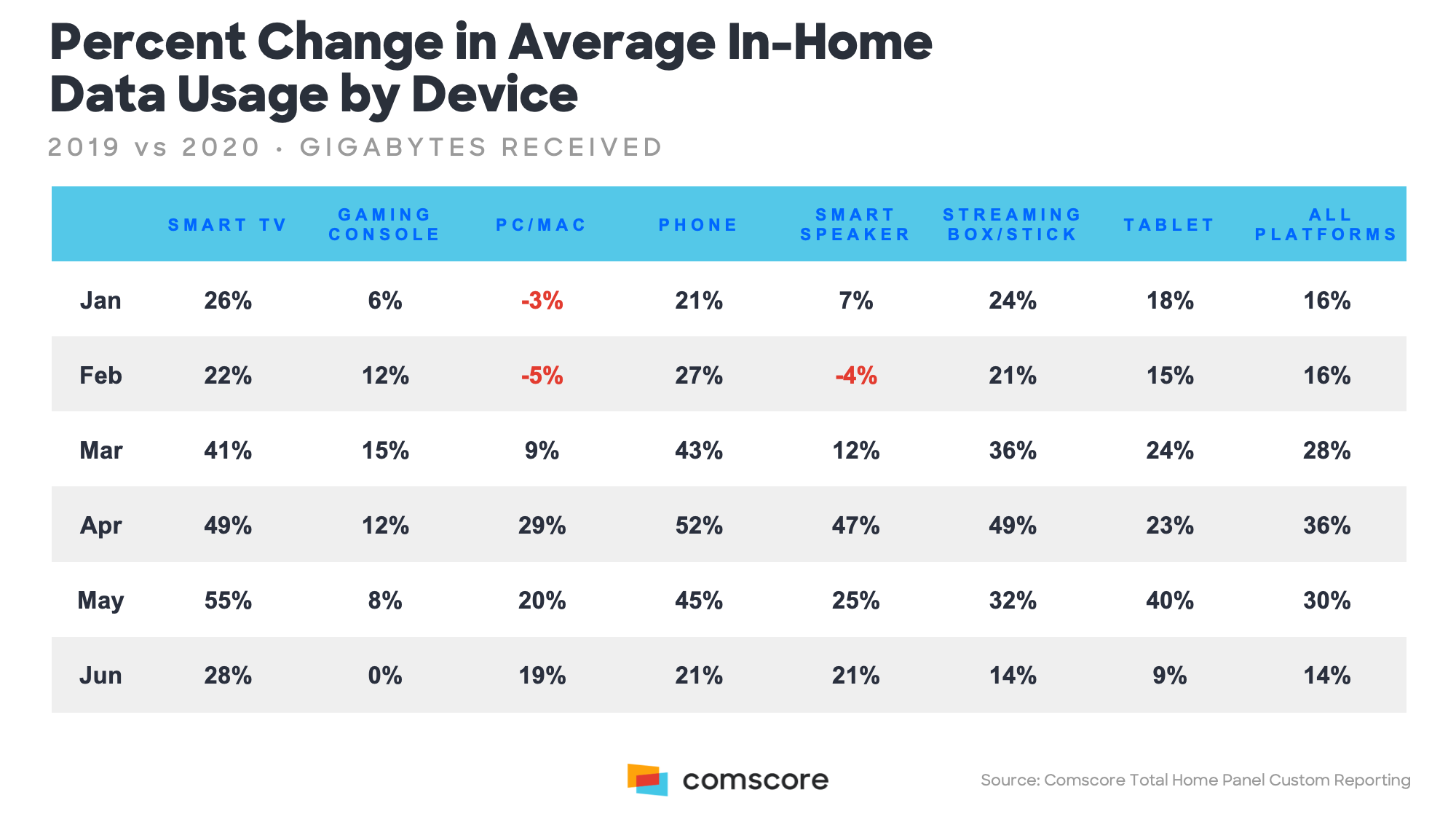 This deceleration in year-over-year growth could be due to a variety of factors, including people spending less time indoors as states continue to reopen, and kids out of school for summer vacation. The largest difference in in-home usage across common devices between 2020 and 2019, 42 percentage points, occurred during the week of March 23, 2020 (the first full week of lockdown in many states) but this gap shrunk to just 13 percentage points by the week of June 29, 2020.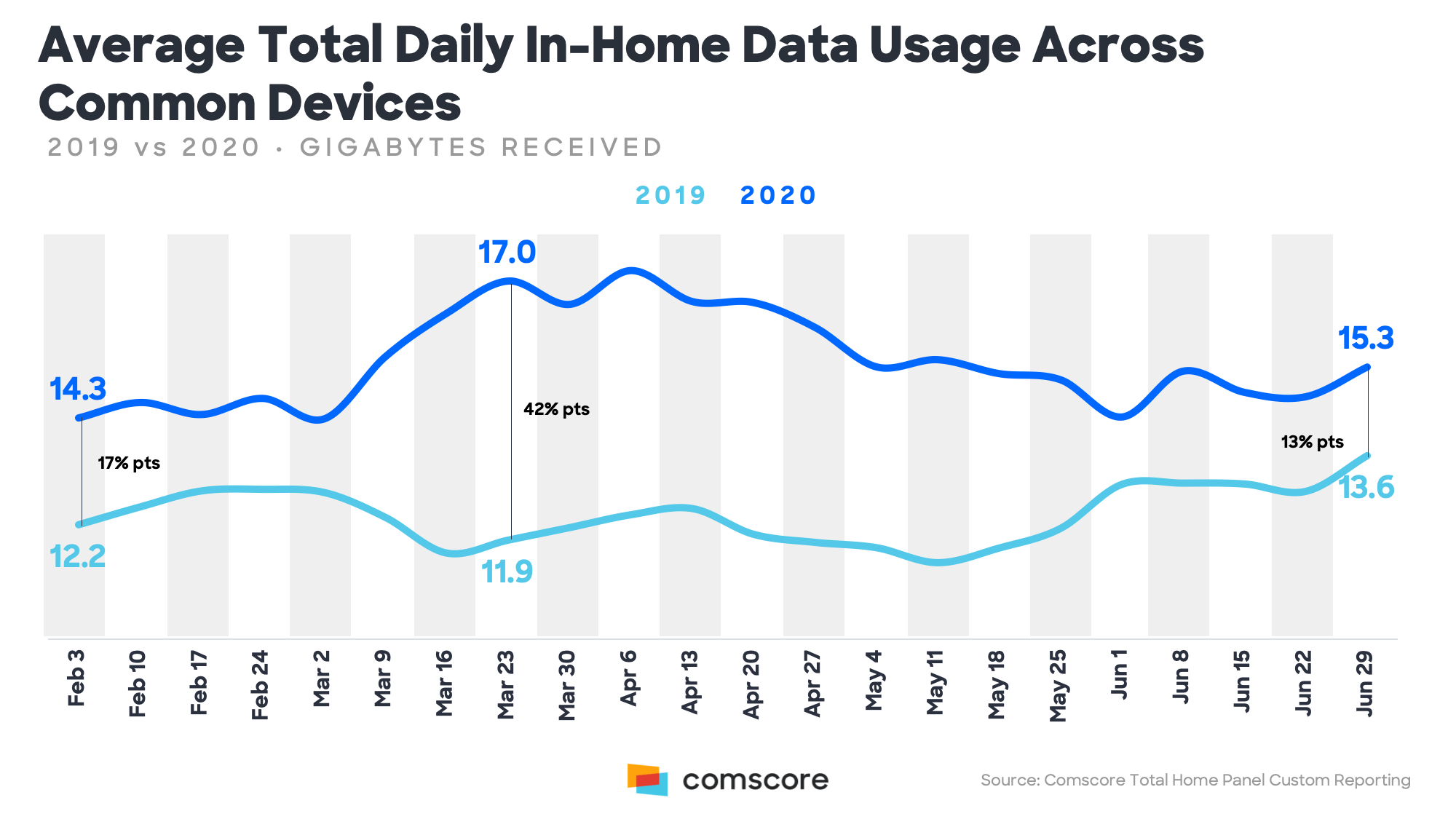 Respectively, streaming boxes/sticks, gaming consoles, and smart TVs are the devices on which most data are consumed in a given month (and were 78 percent of all streaming devices in June 2020). While streaming boxes/sticks made up an identical share of in-home data consumption in June 2020 vs. 2019, it appears that smart TVs may be stealing share from gaming consoles.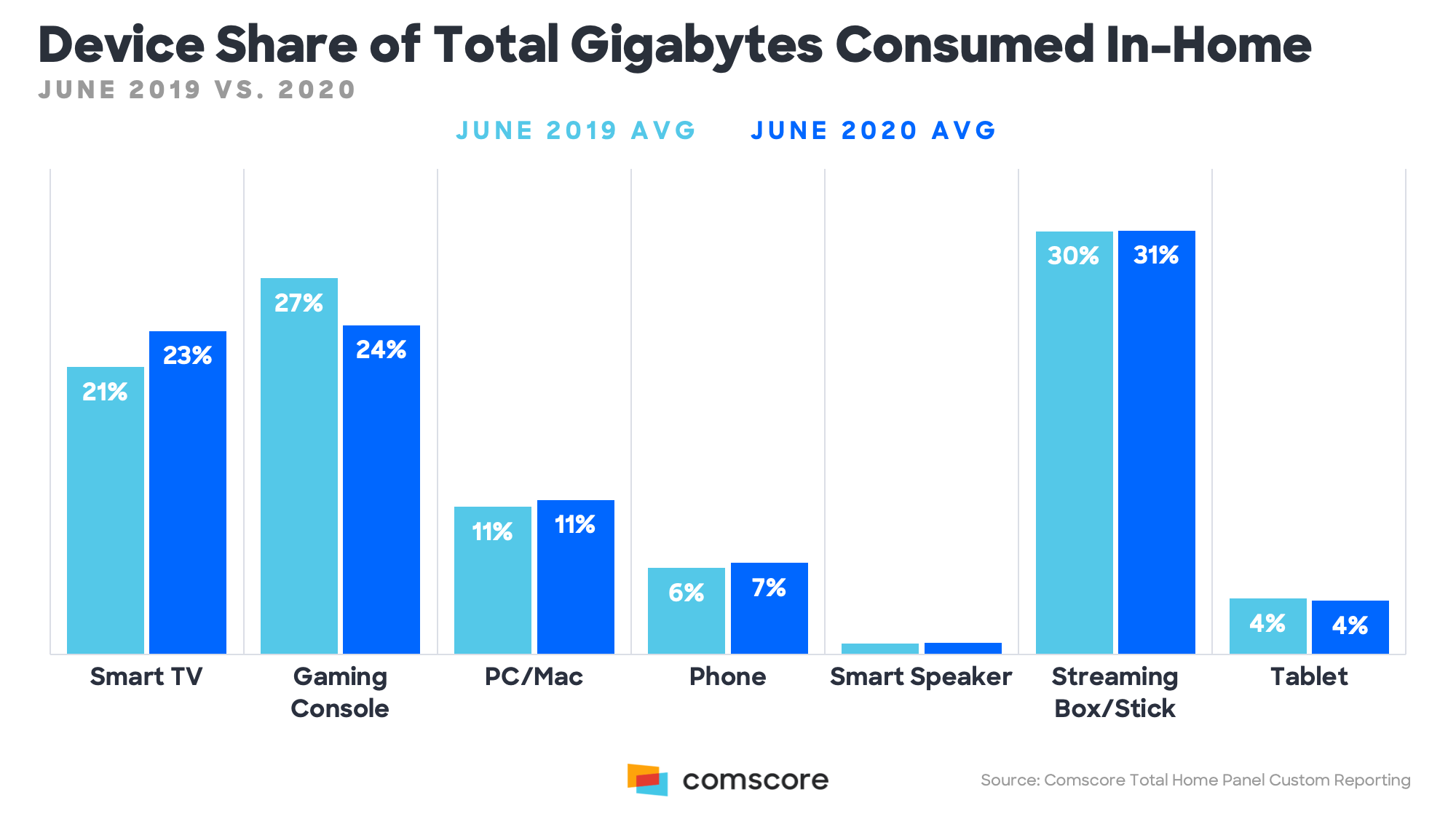 As the pandemic continues, some state governments may impose another round of stay-at-home orders due to the recent resurgence in COVID-19 cases which could again drive an increase in in-home data consumption. We will continue to monitor these trends and provide updates as things change.
Want to better understand the connected home and shifting consumption trends? Contact us to learn more.
Coronavirus Insights
Read our ongoing updates on shifting consumption trends and the resulting impact on the advertising and media industries on comscore.com/Coronavirus.
Sign up to be notified when new insights or data become available.
Sign Up
Comscore Connected Home™ enables users to better understand consumer engagement with technology and media by measuring behavior across every network- or router-connected...

Comscore OTT Intelligence™ provides clients with critical insight into consumer over-the-top (OTT) streaming activity on TV-connected devices, including smart TVs, streaming...