- April 30, 2019
Video Streaming in India: Hot hot hot!
Disney recently unveiled Disney+, its video streaming service, which will first be rolled out this year in the United States before being expanded internationally.
In India, however, Disney is ahead of the game: it acquired Hotstar as part of the $71.3 billion acquisition of Fox last year; and Hotstar is growing incredibly fast. Disney is, in fact, ahead of Netflix and Amazon Prime Video, who are also betting big on India.
But how many video streaming services can a market like India accommodate? Netflix CEO, Reed Hastings said that the next 100 million subscribers will come from India, but the Indian market is unusually competitive. In addition to the usual suspects (Netflix, Amazon, Hotstar), new video streaming services have sprouted – and grown – at blistering speed: Sony Liv, Voot, Zee5, or Wynk, to name but a few.
To better understand the streaming market in India, we analyzed the multi-platform behavioral data of Indian consumers with respect to a selection of video streaming sites and mobile applications. These are: Hotstar, Netflix, Sony Liv, Amazon Prime Video, Voot, Zee5, Wynk, Hungama, Altbalaji, Yupptv, Erosnow, Viu, Jio Cinema, Spuul, and Zengatv.
Two observations surfaced.
1. Mobile is the preferred video streaming device
In February 2019, nearly 144 million consumers in India, as measured by unique visitors, accessed one of the sites mentioned above, and they spent a total of 362 million hours on them – or an average of 2.5 hours per person.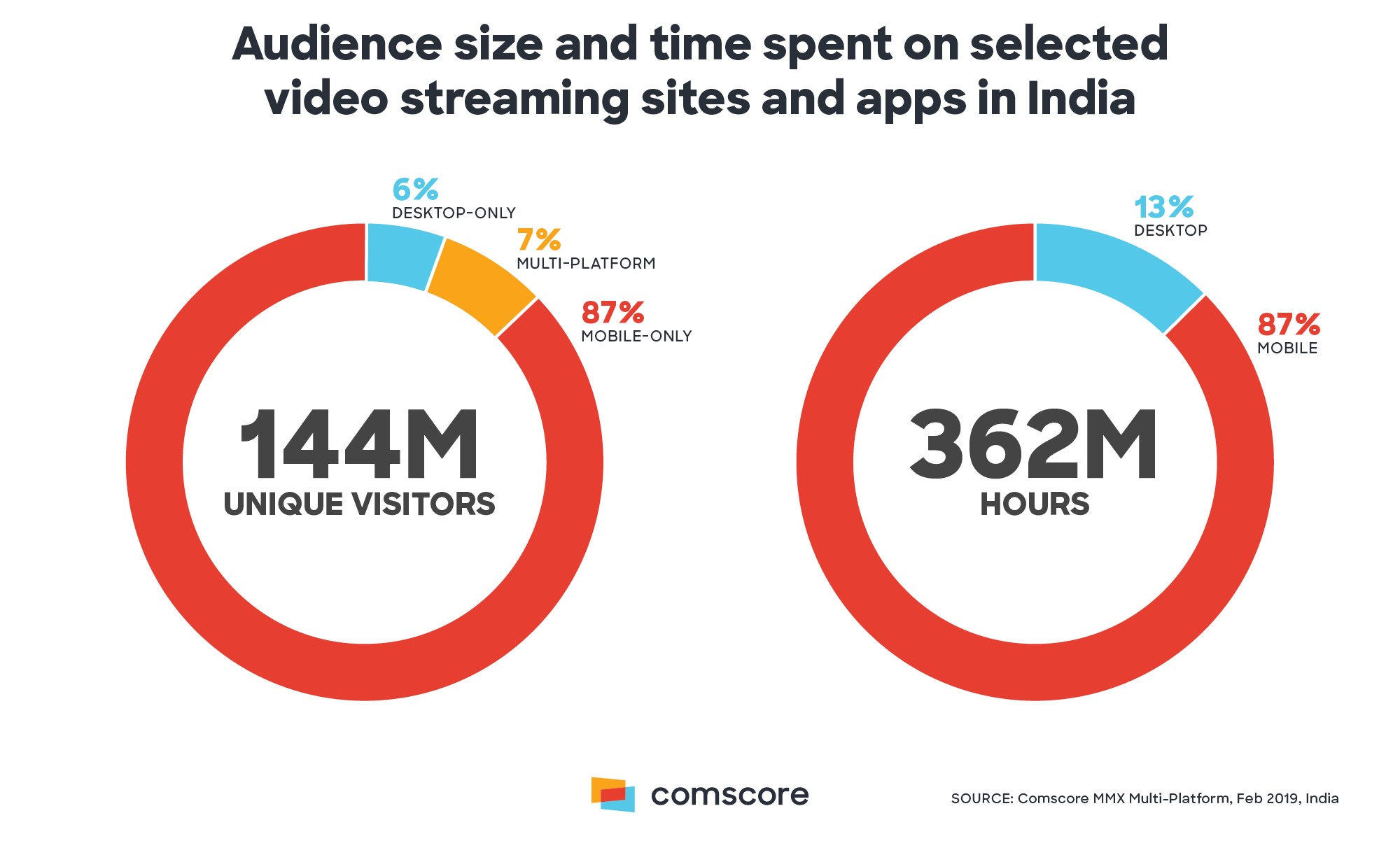 Thirteen percent of the time spent on these sites occurred on a desktop environment (laptops or desktop computers) and eighty seven percent occurred on a mobile environment (smartphone or tablet). In stark contrast to what we see in other nations, mobile users spend nearly as much time on these sites as do desktop users: 149 minutes per desktop user versus 140 minutes per mobile user, respectively.
For video streaming service providers seeking to expand in India, it therefore makes sense to provide cheaper mobile-only packages with enhanced user experiences that can run on a wide range of mobile hardware.
2. Loyalty is not a given
Consumers in India also distinguish themselves by their propensity to consume media across a variety of sites: almost 55 million, i.e. 38% of all visitors to video streaming sites/apps, visited 2 or more such sites/apps.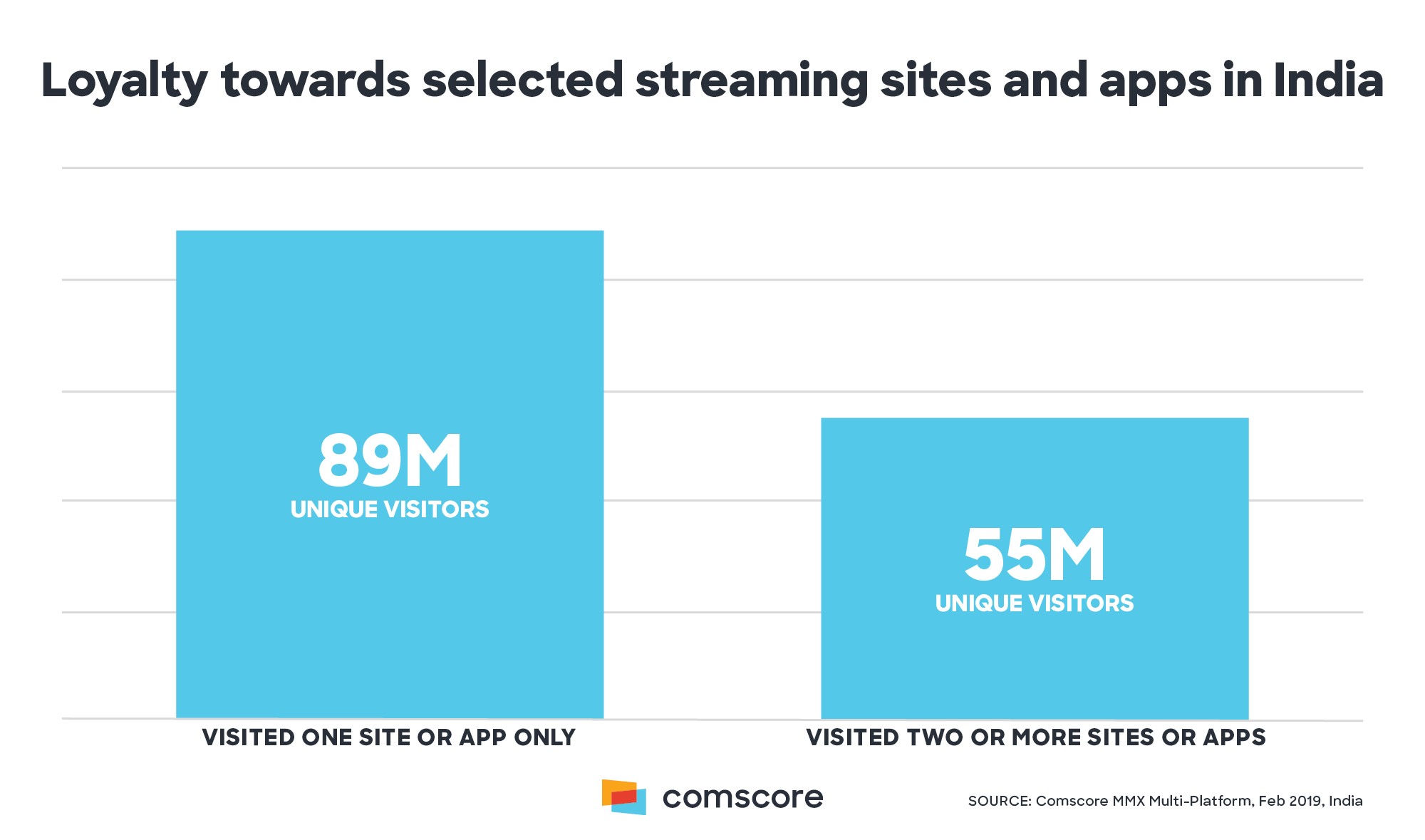 For companies that aim to develop a viable business model for video streaming in India, this has significant implications: despite its sheer size, India's online population has plenty more room for growth, and its consumers are willing to adopt more than one video service, with different content and pricing. So unlike other countries, there's likely room for as many as half a dozen video streaming players to dominate a market that already has fifteen players fighting for market share. No wonder the likes of Netflix, Amazon and Disney are sharpening their knives to capture a slice of the market.
Understand audiences and their media consumption across TV, digital, and cross-platform.
Learn More