- June 19, 2017
Indonesia's Mobile Only Population and Mobile Consumer Behaviour
Comscore recently announced the launch of MMX Multi-Platform, along with major upgrades to Mobile Metrix in Indonesia, with the introduction of mobile consumer panel data. This Android mobile panel expands Comscore's measurement of mobile audiences in Indonesia to enable more robust reporting of visitation, engagement and demographics. An analysis of the multi-platform and mobile data revealed some key findings:
Mobile, Driven by Apps, Accounts for 91% of Indonesia's Digital Time
Mobile devices account for 91% of all digital minutes in Indonesia.
Mobile's dominant share of time is driven primarily by apps, which account for 90% of all mobile minutes, and 82% of digital minutes as a whole.
Younger Demographics More Likely to Have Abandoned Desktop Altogether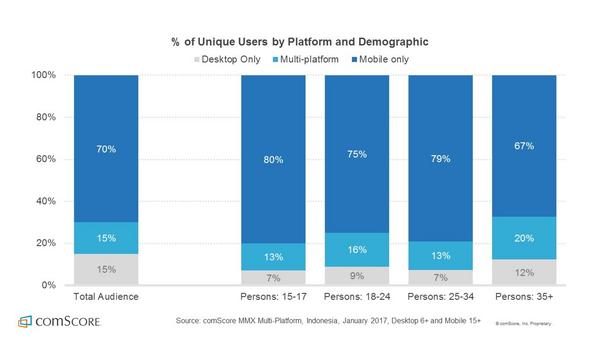 The 70% of Indonesia users who do not use desktop devices during a month is a significantly greater proportion than in other regions.
The trend is marginally more pronounced among younger demographics, but two thirds of users aged 35+ use only smartphone and tablet devices to access digital content.
The 35+ age group is the most reliant on desktop, with 12% using it as their only device, and 20% in combination with mobile platforms.
Large Properties, Especially Communication Apps, Lead Mobile Time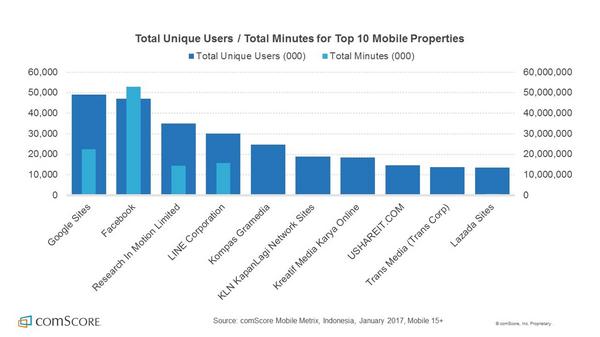 While the top 10 mobile properties all reach more than 13 million visitors in Indonesia, the distribution of minutes is skewed heavily to the top 4.
The top 4 all include communication apps (including email and messaging) which drive a large number of mobile minutes for these properties.
Facebook leads overall total mobile minutes, thanks largely to its Facebook App, WhatsApp Messenger app and Instagram app, which are all included within its portfolio.
App Engagement Does Not Correlate with Reach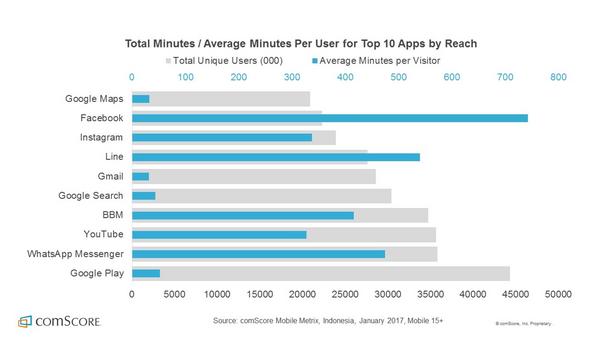 On a per user basis, messaging and social apps far outpace others within the top 10 (by reach) in terms of average minutes.
Video and photography benefit from increasing mobile speeds, larger screens and better cameras on mobile devices, with Instagram and YouTube both driving high numbers of minutes for their users.
For more insights into mobile and multi-platform consumer behaviour in Indonesia, download the full presentation Introducing Expanded Mobile and New Multi-Platform Measurement in Indonesia.
For more insights into key behaviours that have propelled mobile to a primary platform in global markets including Indonesia, download the Mobile's Hierarchy of Needs report.
To learn more about our mobile and multi-platform measurement solutions, please contact us.