Comscore Finds Continuing Digital Audience Growth for Key Categories
New week-over-week growth for retail, education, government and news sites builds on earlier spikes in audience engagement amid COVID-19 pandemic
RESTON, Va., March 30, 2020 – The latest information from Comscore (NASDAQ: SCOR), a trusted partner for planning, transacting, and evaluating media across platforms, shows that U.S. demand for digital news and entertainment continues to increase across several key categories amid the ongoing COVID-19 pandemic.
The rising levels of consumption, observed during the week of March 16-22, 2020, follow the major year-over-year audience engagement spike seen the week prior.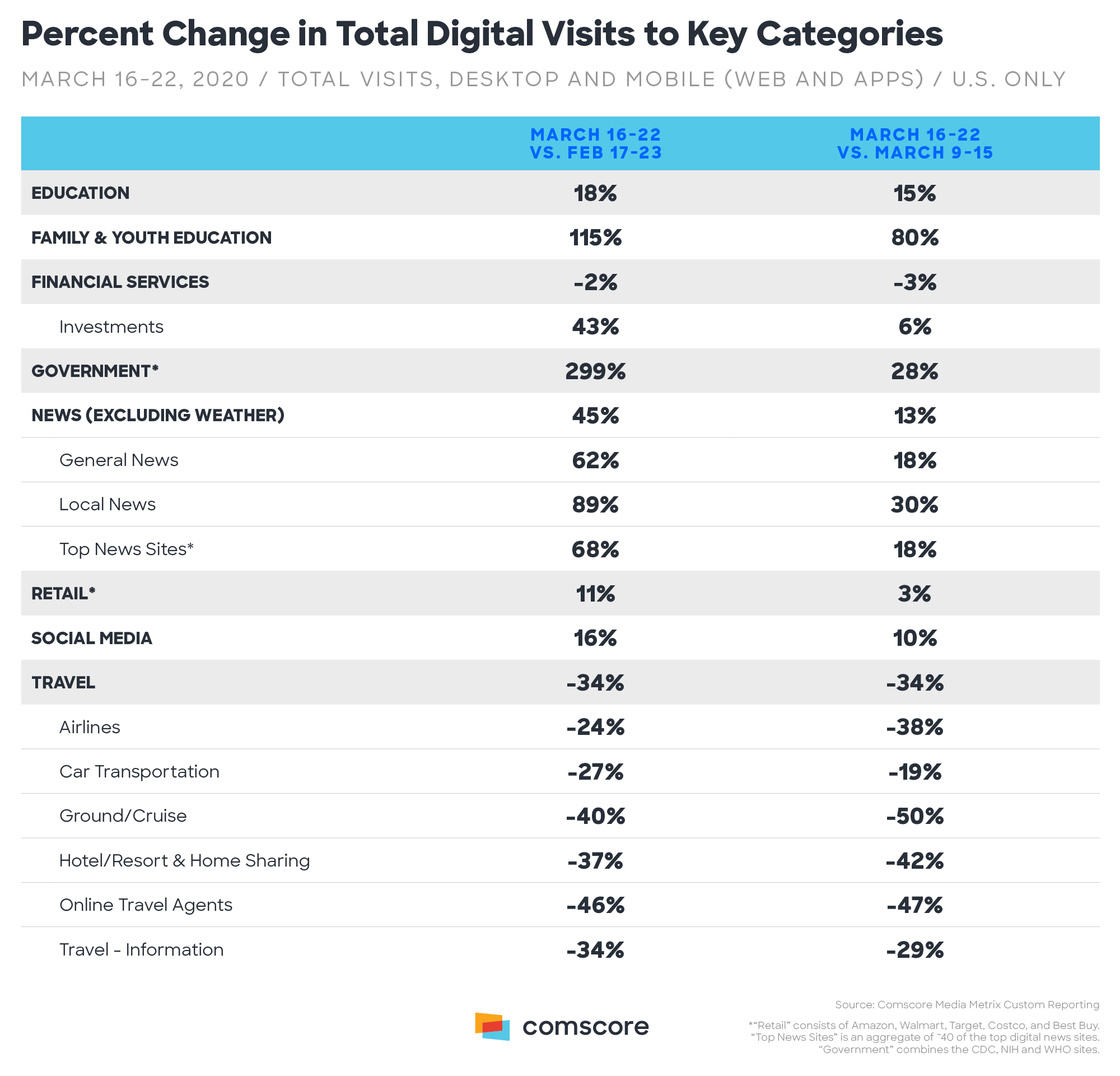 In analyzing the latest digital consumption information, several important trends emerged.
Education & Family
March 16-22 was one of the first weeks when a majority of children in the U.S. stayed home from school and many began "remote schooling," utilizing a variety of digital-based educational sites and apps. As a result, there were 518 million total digital visits (including desktop, mobile web, and mobile app) to education content, making it the highest week for this category so far in 2020.
The "Education" category saw an 18 percent increase in total digital visits the week of March 16-22 versus the same week in the prior month (Feb. 17-23). When looking week-over-week (vs. March 9-15), there was a 15 percent growth indicating this consumption is still growing.
Similarly, within the Family & Youth category, sites and apps specifically under "Family & Youth Education" were up 115 percent versus Feb. 17-23, and up 80 percent compared to the prior week.
As more and more school districts across the country move classes online and parents set up educational options for their children at home, this category will likely continue to grow in the coming weeks and months.
Retail
Earlier this week, a look at the aggregate of total digital visits to Amazon, Walmart and Target's sites revealed a steady upward climb. This week, Costco and Best Buy have been added to the aggregate review. In looking at all five retailers, March 16-22 was the highest week of retail visits in 2020 so far. Comscore's figures show three percent growth since the prior week (March 9-15) and 11 percent growth since Feb. 17-23.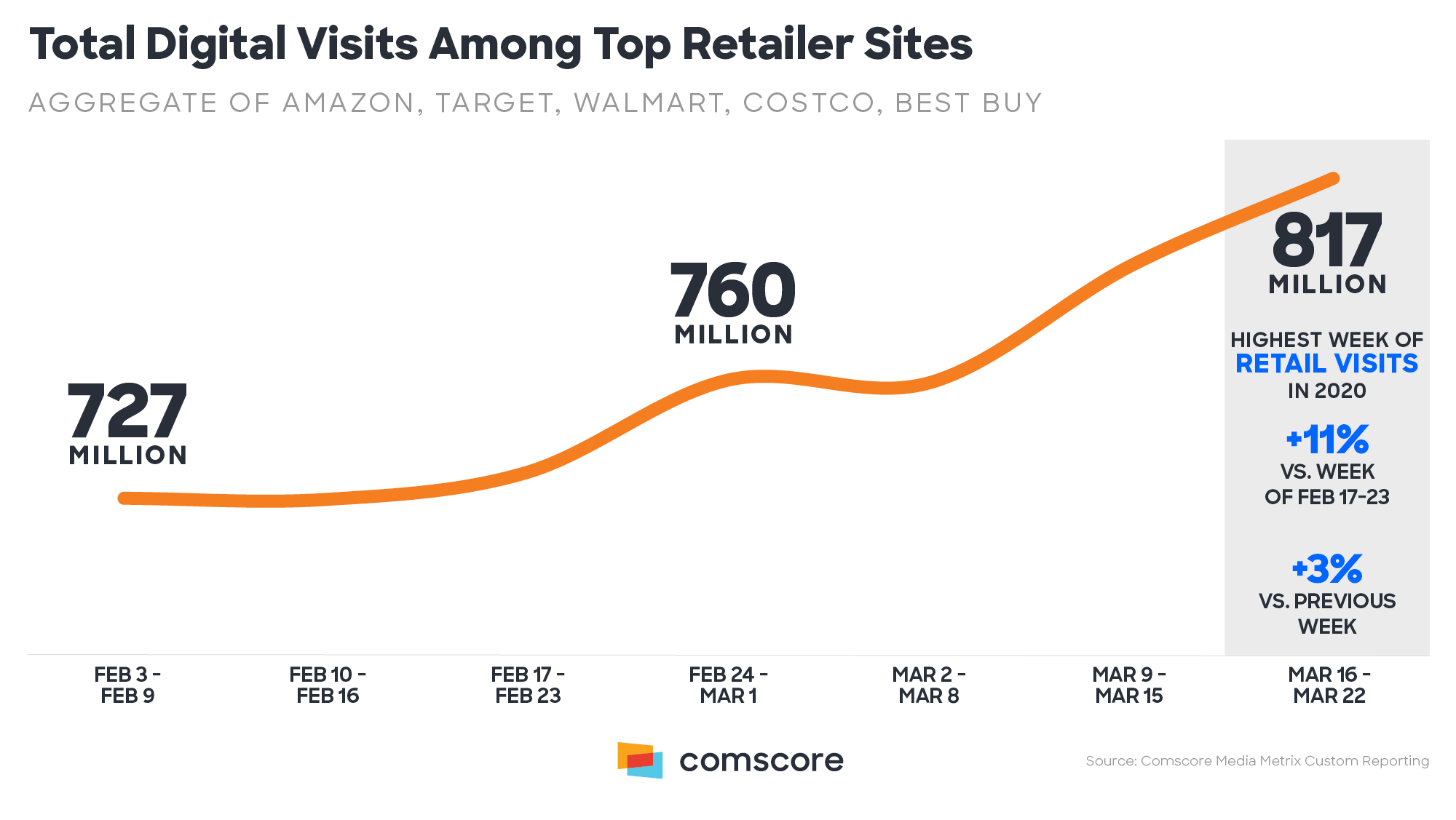 News
Comscore is tracking an aggregate of total digital visits to 40 of the top news publishers' sites, and last week registered the highest week of news visits this year, by far. Looking at this same round-up for March 16-22, there is continued growth, with visits up 18 percent over last week, and 68 percent compared to February 17-23.
Looking more broadly, and excluding "Weather," visits to all news content were up 45 percent for March 16-22 compared to February 17-23, and the growth continues as visits are up 13 percent compared to the prior week, eclipsing 8 billion total visits across all non-weather news content.
Local news was a big winner, as consumers try to understand how the Coronavirus will impact their day-to-day and their specific communities. Comparing March 16-22 to February 17-23, visits to local news sites were up 89 percent, and were up 30 percent versus the prior week. The 89 percent growth versus February is the highest growth rate of any news sub-category. "General News" is next with 62 percent growth. (Sub-categories include groupings like business/finance, politics, technology, etc.)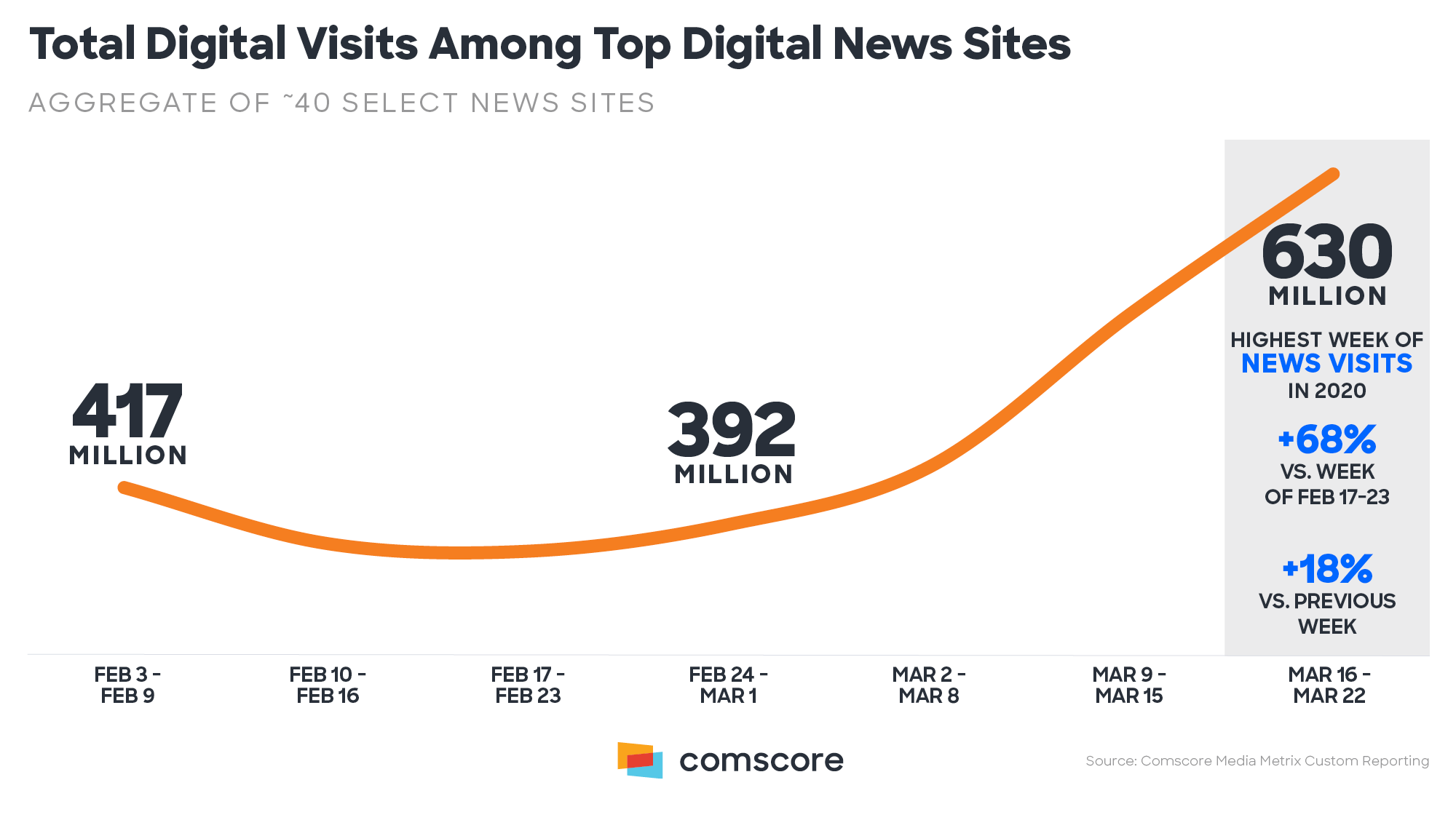 Government
As Comscore shared last week, there has been major growth in total digital visits to the CDC, WHO and NIH sites. In the week of March 16-22, that trend continued with a 299 percent increase from Feb. 17-23 and a 28 percent increase from the prior week.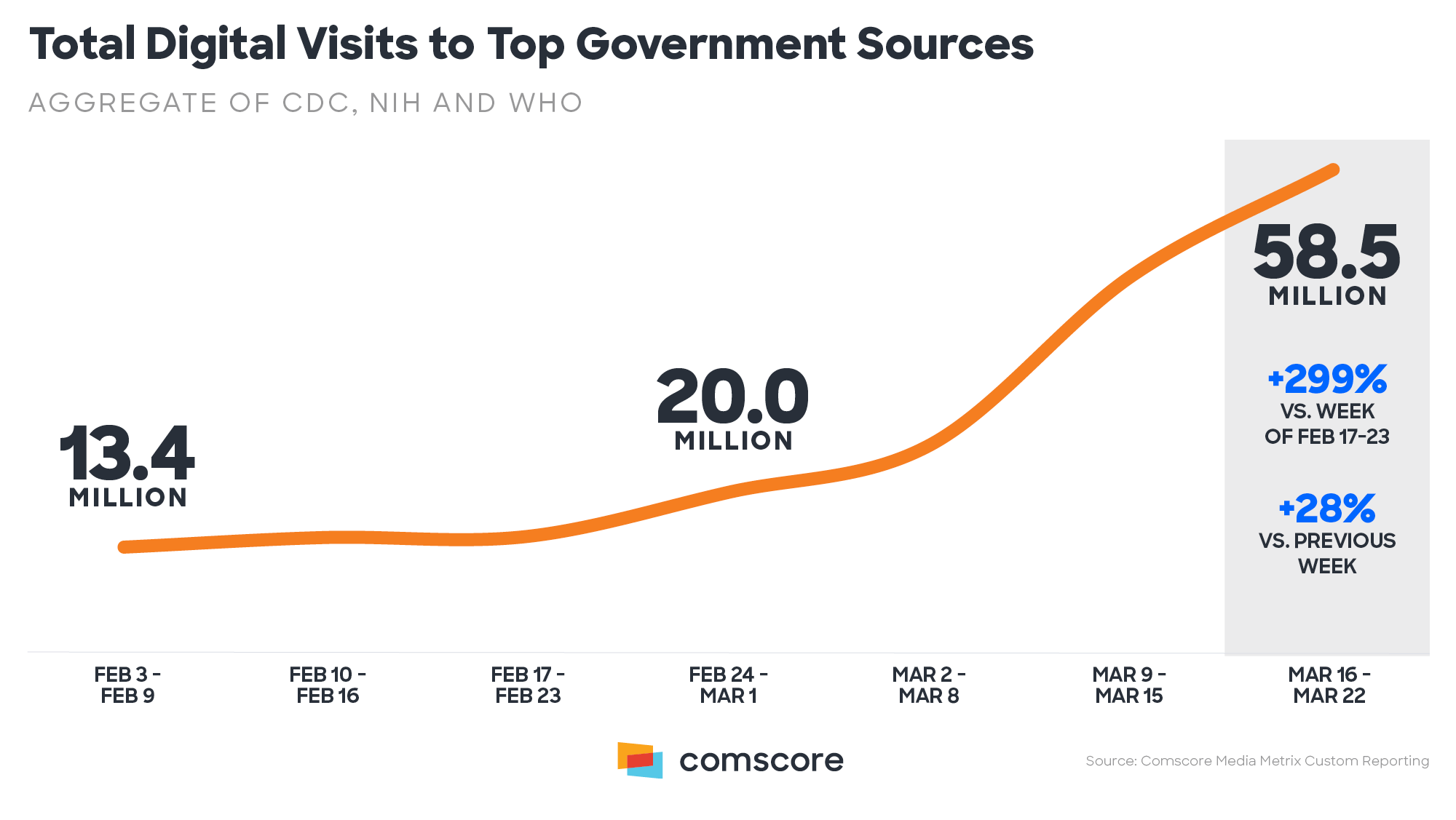 Financial Services
While "Financial Services" content as a whole was fairly flat over the past few weeks (down about 3 percent), one category specifically attracted a lot more attention from consumers: investments.
The volatility in the stock market over the past few weeks has been well-documented, and consumers are increasingly logging onto online sources to check the value of their investments (or make trades). Compared to February 17-23, visits to investment-specific content were up 43 percent the week of March 16-22, 2020. Compared to the prior week, there was still an increase in visits, albeit at a more modest 6 percent growth.
Social Media
"Social Media," despite being a very large category in general, is showing double-digit growth for March 16-22 versus both February 17-23 (a 16 percent rise) and the prior week (a 10 percent jump). As many across the country deal with self-isolation, shelter in place, and other quarantine restrictions, consumers are increasingly reaching out across social media to stay in touch with friends and family. The 11.9 billion visits to social media content this week are the most visits in a week so far this year for that category.
Travel
Travel continues to be one of the hardest-hit categories of online content, with all travel categories recording a decline in the previous week. After a big spike in traffic March 9-15, when consumers were likely logging in to change their flights or cancel plans, visits to airline sites/apps have dropped 38 percent March 16-22 to 82 million visits (the fewest visits of any week so far in 2020).
Online travel agents showed the biggest drop in the category, on a percent change basis, falling 46 percent since February 17-23 and 47 percent versus the previous week.
"The incredible audience growth across just about every category shows no sign of letting up as Americans seek out news updates, begin to adjust learning approaches for at-home children, and overcome the isolating effects of social distancing," said Bill Livek, CEO, Comscore. "As the pandemic continues, consumers are getting used to seeing a wider range of advertising alongside COVID-19 content."
Comscore is providing ongoing insights into changing consumption trends and will provide frequent updates on its Coronavirus insights hub. To learn more about how Comscore can provide you with custom insights into media consumption, or help you engage with COVID-19 content in a way that makes sense for your brand, contact us today.
About Comscore
Comscore (NASDAQ: SCOR) is a trusted partner for planning, transacting and evaluating media across platforms. With a data footprint that combines digital, linear TV, over-the-top and theatrical viewership intelligence with advanced audience insights, Comscore allows media buyers and sellers to quantify their multiscreen behavior and make business decisions with confidence. A proven leader in measuring digital and TV audiences and advertising at scale, Comscore is the industry's emerging, third-party source for reliable and comprehensive cross-platform measurement.
Comscore
Neil Ripley
Comscore, Inc.
(646) 746-0579
press@comscore.com
Coronavirus Insights
Read our ongoing updates on shifting consumption trends and the resulting impact on the advertising and media industries on comscore.com/Coronavirus.
Sign up to be notified when new insights or data become available.
Sign Up
Comscore Media Metrix® Multi-Platform provides an unduplicated view of total audience behavior across desktops, smartphones and tablets.