- September 23, 2014
The Huge Impact of the 2014 World Cup on Internet Usage in Brazil
The world was clearly focused on Brazil this summer as the 2014 FIFA World Cup, one of the most watched sporting events worldwide, this time visited the country of "futebol". As the 5th largest internet population in the world with 71 million unique visitors per month, Brazil demonstrated its deep interest in this event through the online behavior of its citizens.
The total number of Brazilian visitors to the Sports category increased 15% from May 2014 to June 2014, a very significant month-to-month increase. They also spent 10% more time browsing sports content and visited Sports websites 10% more frequently than in the previous month. In terms of video consumption, Brazilians watched 21% more Sports videos and spent 53.7 minutes per viewer consuming video content, an increase of 39%.
World Cup Interest Drives Big Jump in Audience at Top Sports Properties in Brazil
The World Cup helped drive substantial increases in the number of visitors to most Sports properties in Brazil. In the illustration below of the Top 10 Sports properties by unique visitors, all sites except one had a gain in visitors from the previous month. The category leader, Globo Esportes, achieved a gain of 16 percent on desktop computers, and also generated a 34 percent gain on mobile. UOL Esporte, which ranked 2nd, grew 30 percent from the previous month, while FIFA.com ranked third with an impressive growth rate of 136 percent.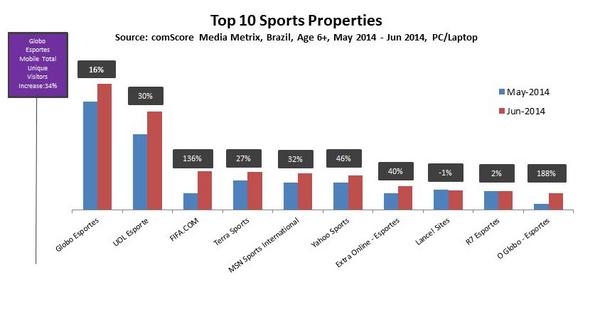 FIFA.com Website Sees Huge Gains in Usage from 2014 World Cup
While it is perhaps not surprising that FIFA.com was one of the main beneficiaries in increased traffic from the World Cup, there are also a variety of interesting facts about how Brazilians accessed this site during the tournament. Here are 5 interesting insights about FIFA.COM during the past few months:
The total number of Brazilian unique visitors to FIFA.com reached 49 million, an increase of 136% from May to June 2014. These gains were driven in large part by the quest for game tickets – the section of the website which saw the highest number of visitors.
Brazilians also spent seven times as much time on FIFA.com as they did in the previous month and browsed 276 million pages, 6 times greater than the previous month.
Among the five major global regions, Southeast Asia had biggest increase in visitors from May to June at 858%!
In Brazil, the Southeast and Northeast regions were responsible for 70% of the total audience to FIFA.com.
Brazilians spent the greatest overall amount of time on FIFA.com in June with more than 180 million total minutes, about 3 times as much as the U.S., which ranked 2nd with 60 million minutes.
How Online Behavior Changed on Game Days
Brazilians had very different online behavior patterns on game days in relation to their normal online activity, with their social media usage being particularly revealing. In total, their social media usage tended to be lower on game days – likely because they were at social gatherings related to the games. In the illustration below, we see that social media usage on June 12 (game day) was below that of June 5 (before World Cup) across nearly every hour of the day, but especially during the hours leading up to and during game time (3pm to 7pm).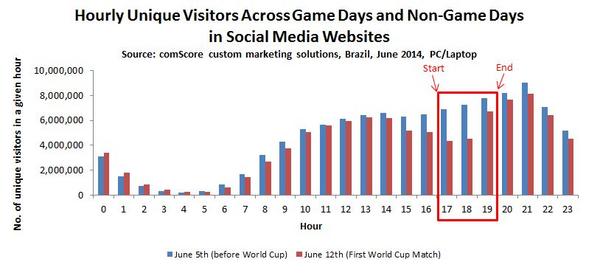 The World Cup had a similar impact on the online advertising market that it did on social media usage. Because so many people went offline on game days, there was a significant decline in the total number of display ad impressions on those days, especially between the hours of 3pm and 10pm. This meant significant lost marketing opportunity for digital advertisers during game days, though with so many fans glued to the TV there were of course some great advertising opportunities on different channels.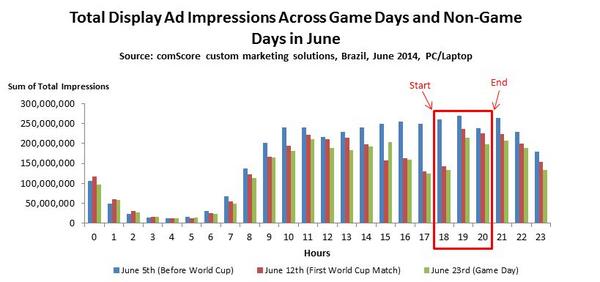 While the next World Cup will not be in Brazil, we can expect that Brazilian internet users – given their love of futebol – will be similarly engaged online. Brands and publishers have enough time to optimize their plans to take advantage of the fact that digital media is gaining more and more power across the seas, while taking into account that there are certain times during the tournament when the draw of watching the games is too much for digital media to compete with. The numbers from the 2014 World Cup don't lie.