- April 2, 2015
Which Social Networks Have the Most Engaged Audience?
Last week Comscore released the 2015 U.S. Digital Future in Focus, our annual report highlighting the key digital trends of 2014 with an eye towards what they mean for the coming year. Social media remains one of the paramount digital topics, as leading platforms continue to attract huge audiences and account for an increasingly large share of consumers' time spent online. To get a sense of how these social networks will fare over the course of this year, it's worth getting some perspective as to how they stack up against each other in the present.
Facebook remains the goliath of social media, leading all social networks with 81 percent reach of the total U.S. digital population and nearly 230 billion minutes of user engagement. With time spent that is 18 times that of the next biggest social network, Facebook had to be excluded from the graphic below in order to show meaningful detail for the others.
Of the social networks pictured in the chart, popular photo-sharing site Instagram leads all with 12 billion minutes in time spent, while Snapchat, the ephemeral photo and video messaging app, racked up about half of that — an impressive mark given its more narrow user base and lower overall audience reach. Twitter, Linkedin and Google+ remain mainstays of the market with very high penetration, while Pinterest and Tumblr have both considerably improved their respective positions in the past year.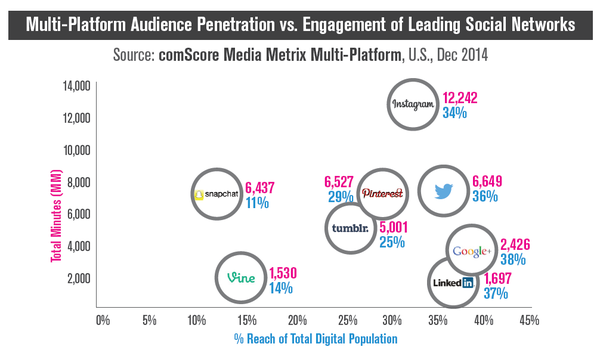 Although this chart says a great deal about how the leading social networks compare on audience penetration and engagement, it's only one part of a bigger story. Each of the social networks above serves a different purpose in the market, delivers a different offering, caters to different consumer demographic segments and has different revenue-generating strategies. What they all have in common is that they are highly influential media platforms that can connect massive amounts of people and enable the instantaneous sharing of content and ideas.
Want to discover more insights on social media and other key trends in digital? Download our 2015 U.S. Digital Future in Focus report today.
Comscore Media Metrix® Multi-Platform provides an unduplicated view of total audience behavior across desktops, smartphones and tablets.