- November 1, 2013
Comscore Releases Top 50 U.S. Multi-Platform Properties for September 2013
Comscore recently released its monthly ranking of U.S. web activity on desktop devices for the top online properties in September, and while these desktop rankings can tell us a great deal about consumer behavior on the Internet, it is becoming increasingly important to account for mobile (i.e. smartphone and tablet) activity for a more complete picture of digital media consumption. More than half (54 percent) of the digital media population now uses both desktop and mobile devices to engage with content each month, signifying our recent shift to a multi-platform majority in the U.S.
Comscore Media Metrix Multi-Platform data offers this valuable, comprehensive view of unduplicated audiences across platforms. Below is the latest ranking of the Top 50 U.S. digital media properties according to their combined desktop, smartphone and tablet audiences.
* Mobile = Smartphone and Tablet
Some of this month's key insights include:
Google Sites and Yahoo! Sites remained the top two digital media properties, each reaching more than 92 percent of the total digital population in September.
Sports properties saw a huge increase in traffic from last month due to the pennant races in Major League Baseball and NFL regular season kicking off in early September. ESPN's total digital population jumped 26 percent, while NFL Internet Group spiked 34 percent.
The Social Networking category continues to grow, bolstered by a significant amount of activity on mobile platforms. Each of the five Social Networking properties in the Top 50 -- Facebook, LinkedIn, Twitter, Tumblr, and Pinterest – saw gains in their audiences vs. the previous month.
To learn more about the multi-platform majority and the ongoing shift to mobile, click here to check out our latest whitepaper, Marketing to the Multi-Platform Majority: How Media Companies & Marketers Can Navigate the Brave New Digital World.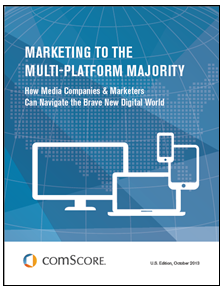 Comscore Media Metrix® Multi-Platform provides an unduplicated view of total audience behavior across desktops, smartphones and tablets.
Learn More