-
April 15, 2013
2013 Spain Digital Future in Focus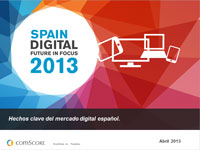 Comscore presents the 2013 Spain Digital Future in Focus – El Mercado Digital Español report, providing an overview of the Spanish digital landscape and identifying the prevailing trends in web usage, online video, mobile and ecommerce.
Key insights from the 2013 Spain Digital Future in Focus (#FutureinFocus) report include:
In Spain, an average daily of 17 million people accessed the internet via a PC in December 2012 - an increase of 9% over the year
81 percent of new phones acquired in December 2012 were smartphones. The rapid adoption of internet enabled devices is resulting in a more fragmented digital media landscape.
Spain is the country in EU5 which shows a highest penetration in Smartphones with 66 percent.
Spanish mobile video audience grows by 164 percent.
Almost 4 million Spanish people had a Smartphone as well as a Tablet in December 2012
Comscore Media Metrix® Multi-Platform provides an unduplicated view of total audience behavior across desktops, smartphones and tablets.
Learn More