October 17, 2013 - Event: UK Digital Market Overview
UK Digital Market Overview October 2013
Your monthly snapshot of digital audience trends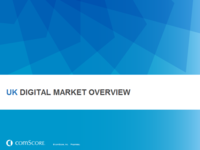 Here is a brief summary of some of the key topics covered in this report
Britons surfing the web via PC and viewing video was static month on month, remaining at 44.6m and 37.3m respectively, whilst accessing the internet via mobile stands at 33.3m
The UK Total Digital Population stood at 46.8m users across PC, mobile & tablet for August 2013, reflecting an additional audience of ~5% accessing the internet from non-PC devices
This access from non-PC devices yields some interesting consumer behaviours, for example, Amazon swaps ranking places with Microsoft, climbing from fourth position on PC to second in the Multi-Platform rankings, reflecting greater usage from portable devices.
The demographic group in focus this month are Males 55+ and one of the first things that stands out is the absence of social media in their category repertoire, at least in the top 10 sectors they are most likely to visit
A second surprise, which perhaps bucks a stereotype, is that they are keen shoppers with retail segments representing 4 of their top 10. Admittedly, the types of retail sites visited are perhaps more stereotypical; Screwfix, PlumbWorld and computer software retailers to name a few.
A sample of the types of data highlighted at the 'From Platforms to People' event can be found on slides 14 to 17, including
Yahoo!'s 11.6m mobile/tablet only audience
Rightmove's incremental 70% reach when mobile and tablet usage is taken into account
John Lewis' strong performance in the mobile access space
VEVO remains at the top of the YouTube partner sites, however Fullscreen and Maker Studio, have climbed from 5th to 2nd and 7th to 3rd respectively, with Outrigger dropping out of the top 10.