September 16, 2013 - Event: UK Digital Market Overview
UK Digital Market Overview September 2013
Your monthly snapshot of digital audience trends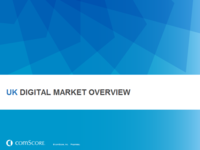 Here is a brief summary of some of the key topics covered in this report
Britons surfing the web via PC in July remained at previous levels, 44.6m, viewing video content also maintained previous levels at 37m.
Major growth was recorded in accessing the internet via mobile, as off network traffic (Wi-Fi) was included into GSMA MMM for the first time, along with accessing via apps through a network connection. These enhancements saw mobile access increase by almost 7.5m users (~25%)
Another new enhancement for July data is the inclusion of tablet traffic, for tagged sites, which resulted in the Total Digital Population increasing by just over 3m users, or 7%
This month's demographic focus on people with children has revealed what is perhaps the most predictable category visitation repertoire we have seen, although who is driving the choices may offer insight into the family dynamics:
Children themselves are likely to drive the choice of Kids, Teens and Gaming whilst other selections such as Family & Youth Education, Family & Parenting & Education hint at joint surfing or parental control of the categories
The actual site choices themselves reveal the internet is being used as an entertainment media, as gaming and cartoon sites dominate, but perhaps the teens are determining visits to retail sites (e.g. Next) as they 'pester' their parent and want to make their own clothing choices?
Social Media on mobile is dominated by Facebook, recording 6 times the users as second placed Pinterest.
No change at the top of the YouTube partners sites, however Fullscreen and ZEFR switched positions, the former moving up to number 5 from last month's 6.