-
August 23, 2014
Chile Digital Future in Focus 2014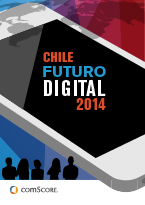 The "2014 Chile Digital Future in Focus" report provides a year in review of the major shifts in digital consumer behavior that occurred in various online sectors, including social media, news/information, government and sports.
Key findings from the report include:
In June, Chile had an audience of 6.4 MM users that represents 4% of the Latin American audience.
Chileans spend 17.6 hours online and 61.2% of that time is spent by young people.
Chile ranks 3rd in social network reach in Latin America.
Chile has more reach than the average for Latin America in Online Commerce. Almost 60% of the audience consists of people less than 35 years old.
The Social Media Audience in Chile reached 6.16 million users. Facebook, Taringa and LinkedIn lead the market.
In June, Chileans spent 37.4 million minutes on government sites.
Android is the main operating system on mobile devices in Chile.
Comscore Media Metrix® Multi-Platform provides an unduplicated view of total audience behavior across desktops, smartphones and tablets.