January 21, 2014 - Event: UK Digital Market Overview
UK Digital Market Overview January 2014
Your monthly snapshot of digital audience trends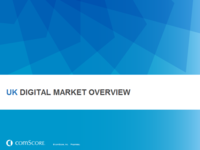 Here is a brief summary of some of the key topics covered in this report:
Month on month, the Total Digital Population and PC figures remain stable, but online video increased by +1.2% (37.5m) and mobile grew slightly (+0.7%) to 34m unique users.
Google, Amazon and Facebook continue to hold top 5 spots across all platforms, however the change of ranking order of the other entities reflects changing user behaviour and shows how audiences choose to access content on the different platforms.
The demographic spotlight falls on adults aged 35 to 54 and demonstrates a group of well organised and forward planning people
Business/Finance occupy two of the top ten categories visited. Taxes is one of them, as the group looks ahead to tax returns before the end of January
Travel (car hire) and Directory/Resources (Shipping – Royal Mail, Post Office and DPD sites) suggest more Christmas planning and we also see two Retail categories (Consumer Goods and Consumer Electronics) make the list
The month on month rise of retail sites, which we saw in last month's Multi-Platform data, continued in November as the peak of eCommerce for Christmas continues, also boosted this year by Cyber Friday in late November
Amazon and eBay both climbed up to hold second and seventh place respectively
In terms of incremental mobile/tablet only reach, department stores performed well as the hunt for Christmas gifts gathered pace, John Lewis (+38%), Debenhams (+42.5%) and M&S (+24.3%) all benefiting from access from 'portable' devices
Comparing mobile access across seasons we also see a shift in consumer behaviour with mobile access to coupon sites growing from 25% to 37% (July versus November), going back to departments stores that increase was 26% to 43%
The top 5 YouTube partner channels remained the same for November but we did see Sony BMG, Base 79 and Orchard all move up one place month on month to occupy positions six through to eight. The only change in the top ten was WarnerBros vfp replacing ZEFR who dropped out of the top ten.