- June 16, 2016
Roku Leads OTT Streaming Devices in Household Market Share
Although desktop computers, smartphones and tablets drive the majority of consumers' online activity, there are many other devices in the home that allow users to access the internet. Gaming consoles, smart TVs and Blu-ray players are commonly connected devices in the home, but over-the-top (OTT) streaming devices are an increasingly important device as well.
Recent data from Comscore show that OTT streaming devices are the fourth most common in-home access point to the internet after the "Big 3" (desktops, smartphones, and tablets). These devices, such as Apple TV and Google Chromecast, are used predominantly as a means to watch internet-based TV via streaming services (e.g. Netflix, Hulu, Amazon Video and HBO NOW), but also enable additional capabilities like web-surfing and music streaming.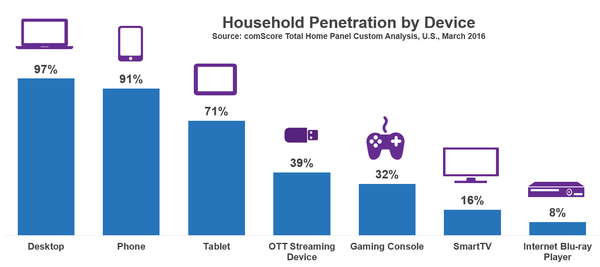 This never-before seen data comes from Comscore's Total Home Panel – the first measurement tool that leverages proprietary technology to capture all internet media consumption at the household level. This unique capability provides the industry's first market-level reporting of OTT streaming activity, a fast-growing and significant portion of the viewing landscape that has, as of yet, gone unmeasured. The Total Home Panel not only reports on the total amount of activity happening in the OTT streaming market, but also what devices people are using to access the streaming content.
It might come as a surprise to many, for example, that Roku devices are accessed by more households than any other OTT streaming device, including Google Chromecast and Apple TV. The three of these devices combine for greater than 80% share of the market, while Amazon Fire TV recently emerged as the third leading player with a 16% share. In an increasingly competitive market with some of the biggest names in tech vying for position, it's impressive to see a company like Roku, Inc. carve out almost half the device market with 49% market share.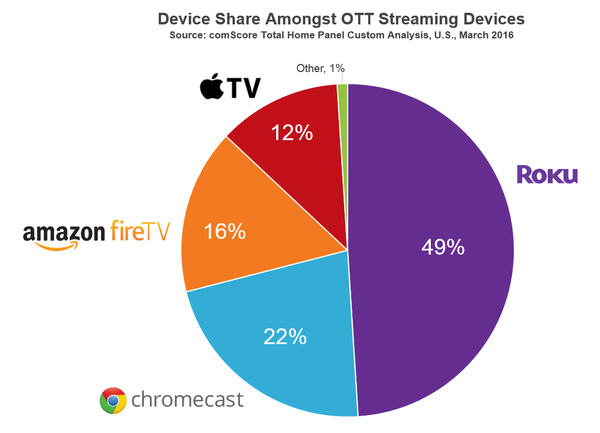 For more insights on the multitude of internet-connected devices used in the home, download Comscore's Home Sweet Digital Home presentation today.