-
April 17, 2013
UK Digital Market Overview April 2013
Your monthly snapshot of digital audience trends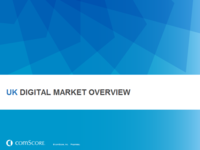 Here is a quick summary of some of the key topics covered in this report:
Over 44 million Brits surfed the web via their PC and nearly 36 million internet users watched online content videos in February 2013:
Google Sites is the top web property and top content video destination in the UK
This month's demographic focus is on female users and reveals how this group uses the internet in comparison to the average internet user.
In the mobile space we are witnessing incredible growth on the platform as an enabler to engage in community type environments (e.g. Pinterest), e-commerce (e.g. Ticketmaster/ M&S) and casual gaming (e.g. Kiloo and Gamesloft).
Through Multi-Platform measurement we are now gaining better understanding of the usage of different platforms:
This month focuses on newspaper titles and all those selected are experiencing incremental reach of around 10% driven by access from on-network mobile browsing.
VEVO's YouTube Partner Channel is the top destination for viewing broadcast quality video in UK.
Comscore Media Metrix® Multi-Platform provides an unduplicated view of total audience behavior across desktops, smartphones and tablets.