June 13, 2013 - Event: UK Digital Market Overview
UK Digital Market Overview June 2013
Your monthly snapshot of digital audience trends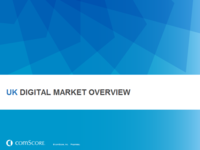 Here is a brief summary of some of the key topics covered in this report:
Britons surfing the web via PC remained strong at 44.6m unique users, with video consumption growing slightly month on month.
On-network mobile browsing was the story in April with an overall month on month increase of almost 3% to 28m, with daily visitors increasing 10% to almost 11m.
This month's demographic spotlight is on high income households. To a degree, usage reflected what was happening in the UK at large:
The political category indexed as the most visited content type for the group. Local elections driving visitation to BBC News Politics, Guardian Politics, HuffPost Politics and AboutMyVote.co.uk in particular. Broader interest in the economy was also reflected with a strong showing for Economist.com
Interest in family matters was demonstrated with Education-Information being the second most visited category, with About.com Education, TES.co.uk and UCAS.com all ranking highly within that sector.
Food Retailing is our Multi-Platform spotlight this month and, whilst it is unsurprising to find the major supermarkets dominate, the extent to which on-network mobile browsing adds to their total audience is;
Just-Eat achieved a top five position, further demonstrating the increasing usage of mobile in all aspects of consumers' lives and the growing value of convenience when it comes to food.
UMG swapped places with VEVO to become the top UK YouTube partner channel, whilst IODA dropped out of the top 10 ranking, being replaced by The Orchard.