Comscore Reports Surging Levels of In-Home Data Usage
Gaming consoles (+48%), smart speakers (+44%), streaming boxes/sticks (+38%) and connected TVs (+37%) all saw significant year-over-year upticks
RESTON, Va., March 24, 2020 – New research from Comscore (NASDAQ: SCOR), a trusted partner for planning, transacting, and evaluating media across platforms, shows how in-home data usage has jumped as millions more people work from home and at least 70 percent of American schools have shut down amid the COVID-19 pandemic.
According to Comscore's Total Home Panel data, average in-home data usage is up 18% so far in March 2020 vs. the same amount of time in March 2019 (March 1-17, 2019 vs. March 1-17, 2020). The most notable device-level data usage increases seen in March thus far are for mobile phones, smart speakers, connected TVs and streaming boxes/sticks. These increases are likely attributable to more Americans using the internet on their phones to work from home and all family members interacting with more streaming media while staying home.
"If the current quarantines continue across the country, we expect this upward data usage trend to continue, as consumers shift their work, school, information gathering, shopping and entertainment habits amidst the COVID-19 crisis," said Bill Livek, CEO, Comscore.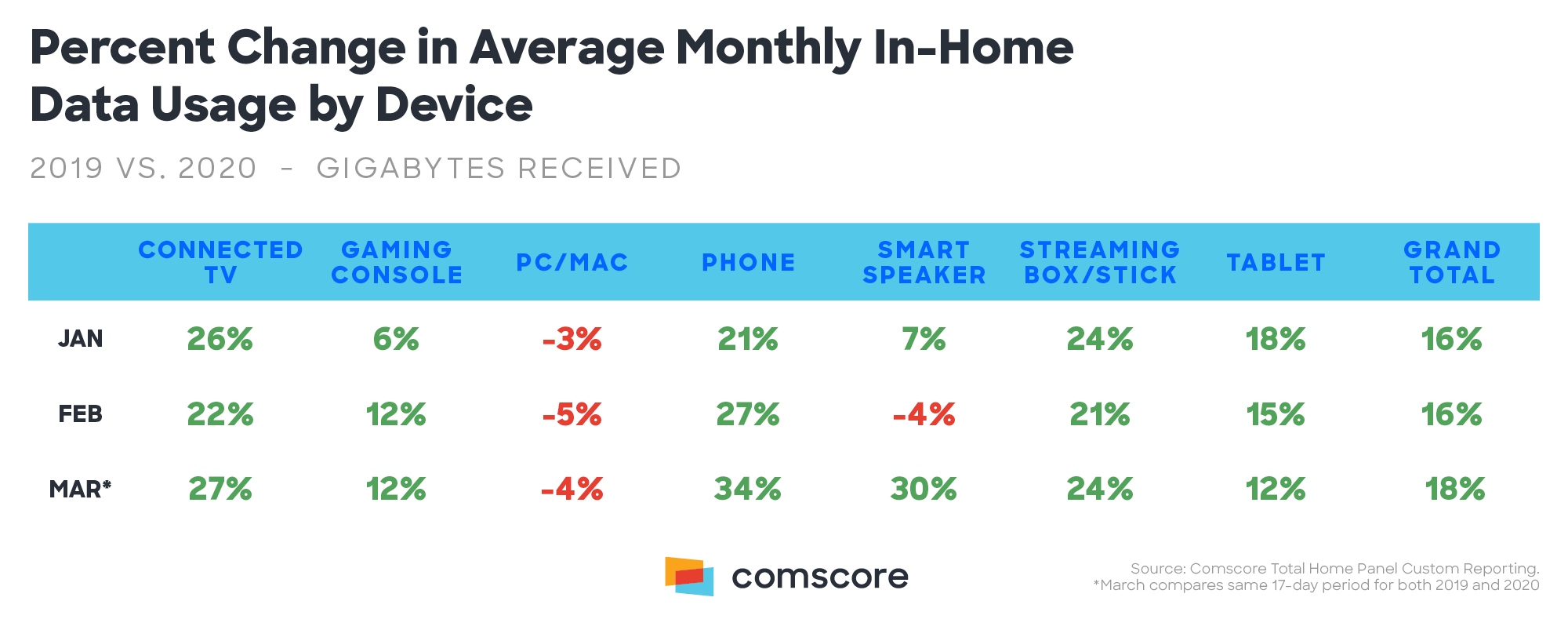 About Comscore
Comscore (NASDAQ: SCOR) is a trusted partner for planning, transacting and evaluating media across platforms. With a data footprint that combines digital, linear TV, over-the-top and theatrical viewership intelligence with advanced audience insights, Comscore allows media buyers and sellers to quantify their multiscreen behavior and make business decisions with confidence. A proven leader in measuring digital and TV audiences and advertising at scale, Comscore is the industry's emerging, third-party source for reliable and comprehensive cross-platform measurement.
Comscore
Neil Ripley
Comscore, Inc.
(646) 746-0579
press@comscore.com
Coronavirus Insights
Read our ongoing updates on shifting consumption trends and the resulting impact on the advertising and media industries on comscore.com/Coronavirus.
Sign up to be notified when new insights or data become available.
Sign Up
Comscore Media Metrix® Multi-Platform provides an unduplicated view of total audience behavior across desktops, smartphones and tablets.