Comscore Sees Notable Rise in Streaming Usage
Households using OTT up 28 percent, total OTT hours up 13 percent year-over-year
RESTON, Va., March 27, 2020 – The latest research from Comscore (NASDAQ: SCOR), a trusted partner for planning, transacting, and evaluating media across platforms, finds that OTT streaming has significantly increased across Connected TVs and streaming boxes/sticks in recent weeks. The higher utilization rates are the latest example of how media consumption shifts are rapidly occurring amid the COVID-19 pandemic.
In looking at OTT streaming behavior thus far in March 2020, Comscore information reveals there has been notable year-over-year growth in both the number of households and time spent with OTT content on both connected TVs and streaming boxes/sticks.
Among the findings:
Connected TV and streaming boxes/sticks have registered significant year-over-year growth. Overall, streaming boxes and sticks make up 56% of to-date OTT streaming hours in March 2020 and connected TVs account for 32%.

When comparing the three most recent days of available data, this growth is even more pronounced vs. the same days in 2019.

At the app level, the "big four" streaming services still account for the majority of total OTT hours viewed on both connected TV and via streaming boxes/sticks with Netflix leading both categories for March 2020 to-date.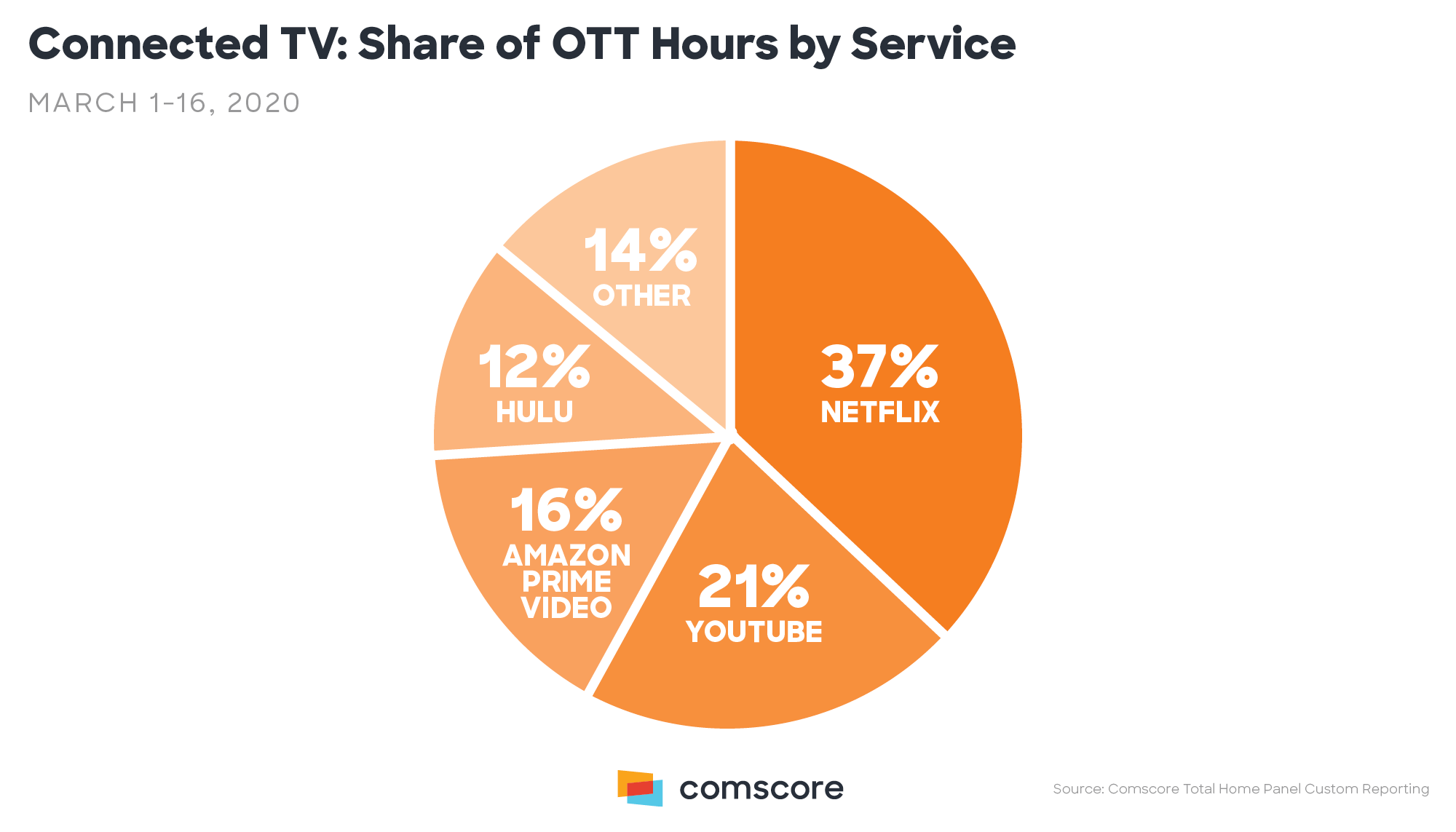 "Comscore's latest information shows that the millions of Americans who are remaining indoors to comply with Coronavirus public health measures are hungry for news and entertainment, and streaming options are an increasingly important piece of the consumption pie along with traditional TV," said Bill Livek, CEO, Comscore. "Advertisers who are looking to pivot their planning to match the rapidly-changing media consumption landscape can benefit from engaging with these growing audiences."
Comscore is providing ongoing insights into changing consumption trends and will provide frequent updates on its Coronavirus insights hub. To learn more about OTT streaming consumption and trends, contact us today.
About Comscore
Comscore (NASDAQ: SCOR) is a trusted partner for planning, transacting and evaluating media across platforms. With a data footprint that combines digital, linear TV, over-the-top and theatrical viewership intelligence with advanced audience insights, Comscore allows media buyers and sellers to quantify their multiscreen behavior and make business decisions with confidence. A proven leader in measuring digital and TV audiences and advertising at scale, Comscore is the industry's emerging, third-party source for reliable and comprehensive cross-platform measurement.
Comscore
Neil Ripley
Comscore, Inc.
(646) 746-0579
press@comscore.com
Coronavirus Insights
Read our ongoing updates on shifting consumption trends and the resulting impact on the advertising and media industries on comscore.com/Coronavirus.
Sign up to be notified when new insights or data become available.
Sign Up
Comscore Media Metrix® Multi-Platform provides an unduplicated view of total audience behavior across desktops, smartphones and tablets.